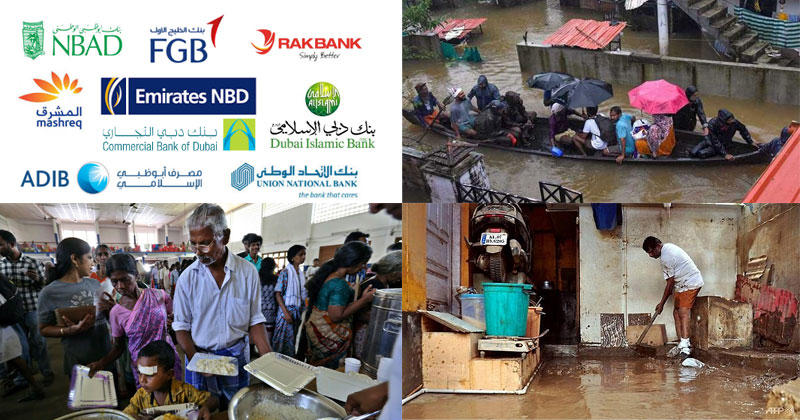 Donations continue to pour in from different parts of the world to the flood-hit Kerala.
Currently, Dubai Islamic Bank (DIB) has set aside Dhs 5 million, i.e. Rs. 5 crores to help with the relief efforts, was confirmed on Monday.
The funds are coursed through the Mohammed Bin Rashid Al Maktoum Humanitarian & Charity Establishment (MBRCH), which is tasked to undertake international humanitarian and charity work in disaster-hit areas.
An official stated that the money being allocated is "fully dedicated to the relief" operations in the flood-stricken areas in Kerala.
DIB's financial aid is in response to the directives of His Highness Shaikh Khalifa bin Zayed Al Nahyan, president of the UAE, His Highness Shaikh Mohammed bin Rashid Al Maktoum, vice president and prime minister of the UAE and ruler of Dubai, and His Highness Shaikh Mohammed bin Zayed Al Nahyan, crown prince of Abu Dhabi and deputy supreme commander of the UAE Armed Forces.
READ ALSO: Kerala Floods : CBSE to provide digital certificates for flood-hit Kerala students
"The relief efforts of the establishment are in accordance with the directives of the wise leadership to provide urgent relief to our Indian brothers in the state of Kerala in order to alleviate their suffering, and the UAE's brotherly and humanitarian duty towards its brothers and friends from friendly countries in such difficult circumstances," said Ibrahim Boumelha, counsellor of the ruler of Dubai for humanitarian and cultural affairs and vice chairman of the board of trustees of MBRCH.
"The cooperation between the [MBRCH] and Dubai Islamic Bank has been established for a long time in many charitable projects inside and outside the country. This generous contribution is fully dedicated to the relief of our Indian brothers in Kerala," he added.
So far, the flood-hit Kerala has received generous contributions from the Emirates, with donations from businesses in the Gulf state reaching Dh23 million as of August 19.