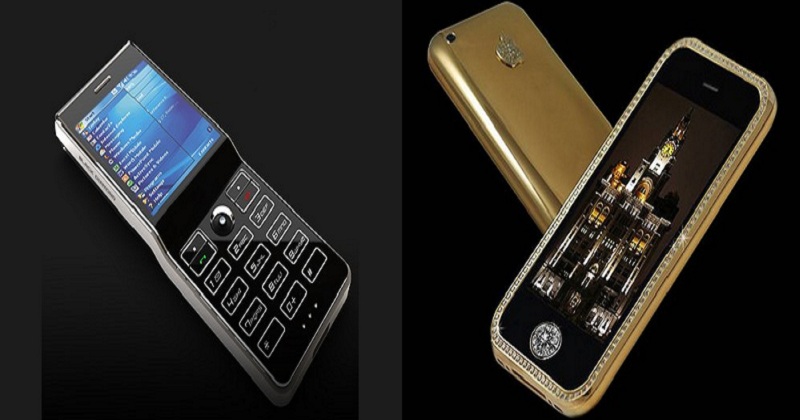 Here's the list of 10 most expensive mobile phones in the world 2018.
1. Black Diamond iPhone 5 – $15.3 million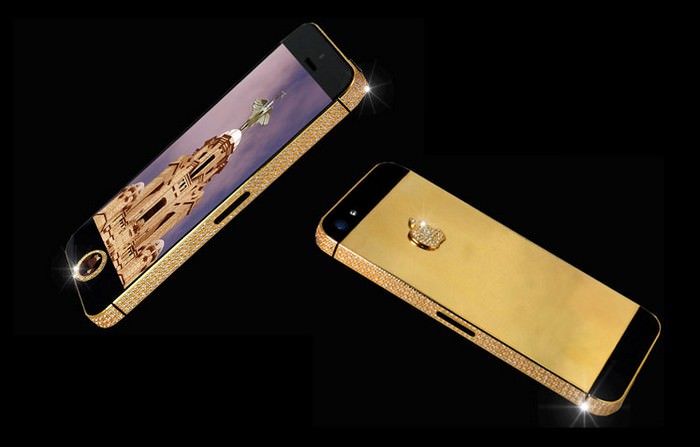 iPhone 5 with gold and black diamonds, making it the world's most expensive smartphone ever. It has been took 9 weeks to built and complete the device has been made by hands. The case of this phone is to said to be made of 24-carat solid gold and the Apple logo and the edges are studded with a total of 600 white diamonds. While the home button consists of 26-carat black diamond. A Chinese based billionaire is the one who owns this world's most expensive smartphone.
2. Diamond Rose iPhone 4 32GB – $8 million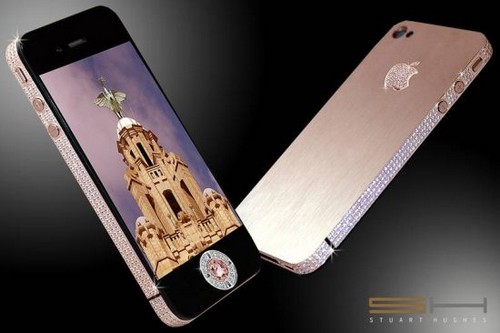 The world's second most expensive iPhone to date is the 32 GB iPhone 4 Diamond Rose by Stuart Hughes. With a price of about $8 million the phone's bezel is made of rose and approximately 500 individual flawless diamonds that total over 100ct. The back is also rose gold and features the Apple logo all decked out with 53 additional diamonds, while the front navigation button is platinum with interchangeable single cut 7.4ct pink or rare 8ct Flawless diamonds in the center. Furthermore, it's the second in our list of most expensive mobile phones.
3. Supreme Goldstriker iPhone 3G 32GB – $3.2 million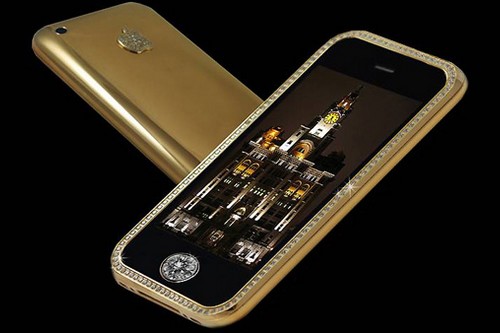 For the second most expensive mobile phone in the world, a variant of the iPhone from Apple, the Supreme iPhone 3G is priced at $3,200,000. The iPhone 3GS Supreme features a casing made from 271 grams of solid 22k gold and a screen trimmed with fifty-three 1-carat diamonds. In addition, the home button is covered with a single rare 7.1-carat diamond. That's not all, though—the iPhone 3GS Supreme comes in a chest carved from a single block of granite and sports Kashmir gold and an interior lining made with nubuck top-grain leather.
4. iPhone 3G King's Button – $2.4 million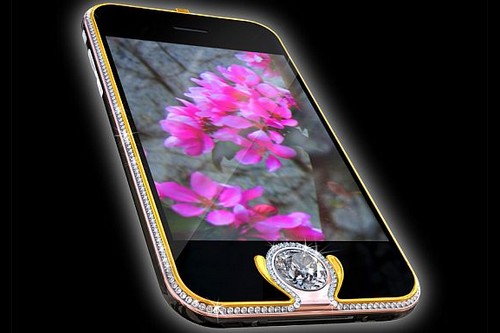 For the third most expensive mobile phone in the world is still occupied by a variant of the iPhone, named King's Button iPhone 3G. The renowned jeweler from Austria Peter Aloisson is the creater of this phone. 138 diamonds are installed on this phone that makes it worth $2.4 million. The beautiful white diamon of 6.6 carats serves as the home screen button which enhances the beauty of this phone.
5. GoldVish Le Million – $1.3 million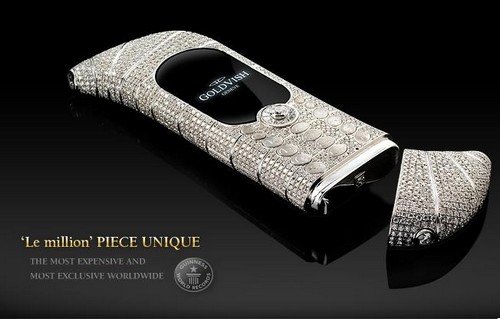 Goldvish "Le million" is designed by renowned designer Emmanuel Gueit, who designed lots of luxury watches and jewellery. The most luxurious and expensive mobile phone, "Le Million" Piece Unique, had launched in Switzerland. This phone awarded by Guinness World Records as the world's most expensive mobile phones sold in the Millionaire Fair in Cannes, France in September 2006. Often referred to as the world's most expensive phone at $1.3 million, this designer phone is bejewelled with 18k white gold and 20 carats of VVS1 diamonds.
Also Read : Does Nokia 9 Look A Bit Odd in the Leaker Images? INSANE FEATURES!!!
6. Gresso Luxor Las Vegas Jackpot – $1 million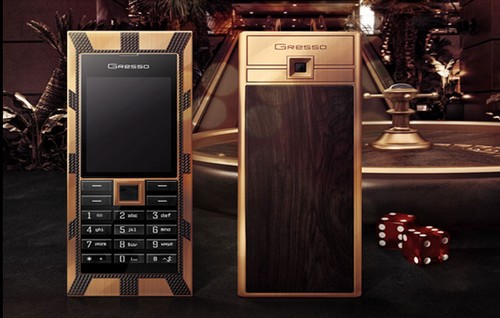 This phone comes from a traditional purveyor of a luxury handsets – Gresso, and is called Luxor Las Vegas Jackpot. This phone was established in Switzerland in2005. It is made of solid gold weighing 180 grams. The back panel is made up of African backwoods that is more than 200 years old. That wood is the most expensive wood in the world. Its keys are made of sapphire crystal. And it costs a cool $1 million.
7. Vertu Signature Cobra – $310,000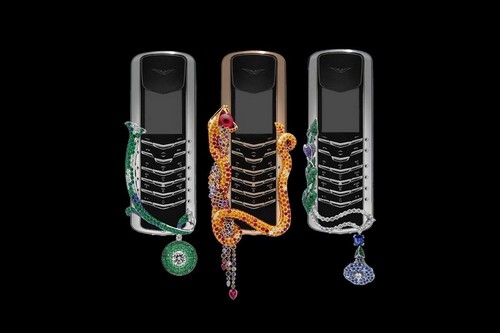 Vertu Signature Cobra ranks seven of the world's most expensive mobile phone. The designs are quite exclusive with the existence of forms such as the Cobra snake on the phone side. Designed by French jeweller, Boucheron, the ritzy phone features one pear-cut diamond, one round white diamond, two emerald eyes, and 439 rubies. The price of this phone is $310,000.
8. BlackDiamond VIPN Smartphone – $300,000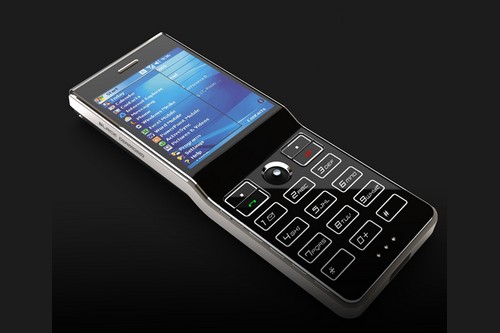 At no. 8 in the world's most expensive mobile phone is Sony Ericsson's Black Diamond. Jaren Goh created this stylish concept for Sony. It features mirror detailing, polycarbonate mirror and an organic LED technology. Of course, when it comes to Sony, nobody can challenge the screen results. It is decorated with two diamonds, one on the navigation buttons and the other in the back of the phone. The price of this phone is $300,000.
9. iPhone Princess Plus – $176,400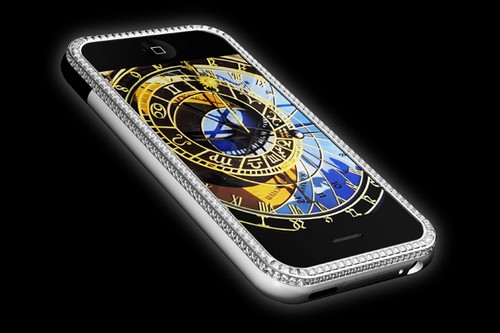 iPhone Princess Plus has a feature that is not much different from other Apple iPhone mobile phone, which makes this into the top 10 most expensive mobile phones in the world. This iPhone is designed by famous designer Austria, Peter Aloisson. Beside the gold, this special iPhone flavour comes with no less than 138 princess cut and 180 brilliant cut diamonds with a weight of 16.50 – 17.75. And according to Peter Aloisson, the diamonds have the best quality, so owning such a device is quite a remarkable thing. It's price is $176,400.
10. Vertu Signature Diamond – $88,000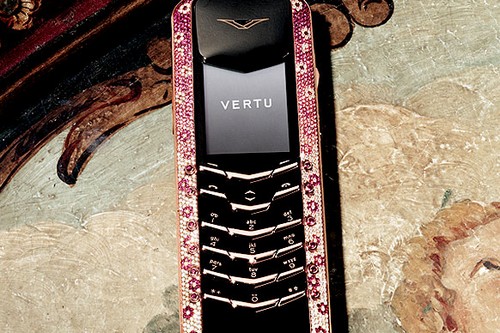 Exclusive luxury phones from Vertu. Vertu is very famous for its luxury mobile phone products, including mobile phones Vertu Signature Diamond is included in order to-10 list of the world's most expensive mobile phones. This phone is made of platinum and claimed the best assembly process is done by hand, not machines. Phone decorated with a pretty fancy diamonds produced only 200 pieces. The price of this phone is $88,000, which make it the 10th most costliest phone ever.