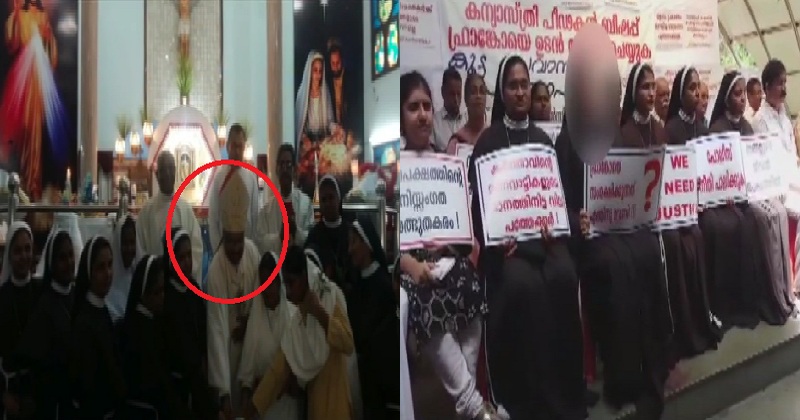 The Catholic Church in Kerala witnessed an unprecedented situation on Saturday as a group of nuns from Kuravilangad in Kottayam district carried out an open protest demanding arrest of the bishop of Jalandhar who is accused of raping their fellow nun.
Five nuns from the convent in Kuravilangad joined family members of the nun who has alleged that Jalandhar Bishop Franco Mulakkal had sexually abused her multiple times. The protest was held symbolically in front of the Kerala High Court in Kochi.
"We have not got justice from the church, the government or the police," the aggrieved nuns said, explaining the reason behind their decision to take their protest to the streets.
Also Read : Convent Worker Reveals He Was Asked to Kill the Nun Who Filed a Complaint Against the Bishop
They said it was 74 days since the investigation began and the bishop has continued to roam free. "Is it because he has money and power that he cannot be arrested?" asked the nuns.
But during this time, Franco is celebrating the closing of Jalandhar Missionaries Of Jesus' Silver Jubilee celebrations.
The bishop cut the cake in the function attended nuns including Missionaries of Jesus Mother General Rajeena.
Perhaps, this may be the first incident in the history of churches when nuns make public protest against a bishop. Five nuns who have supported the victim are sitting in protest. The victim's family members are also taking part in the protest, being held under the aegis of Joint Christian Council, which is working for the reformation of churches.
The protesting nuns said that the government and police are not standing with them and the court is their only resort.