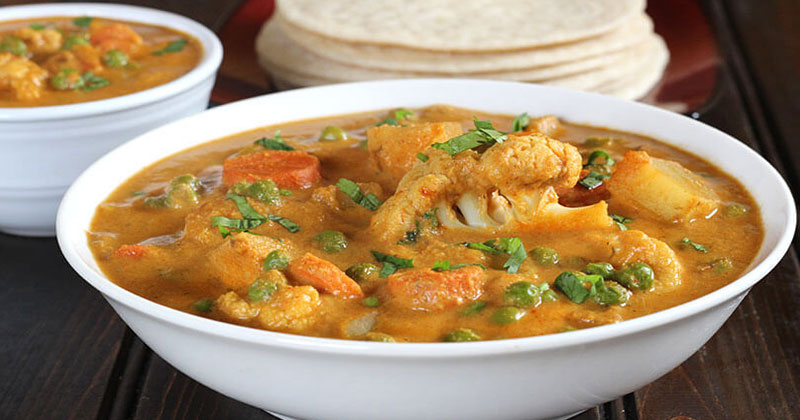 The preparation of Vegetable Khurma varies from region to region – especially South India and North India. So try this recipe.
Vegetable Khurma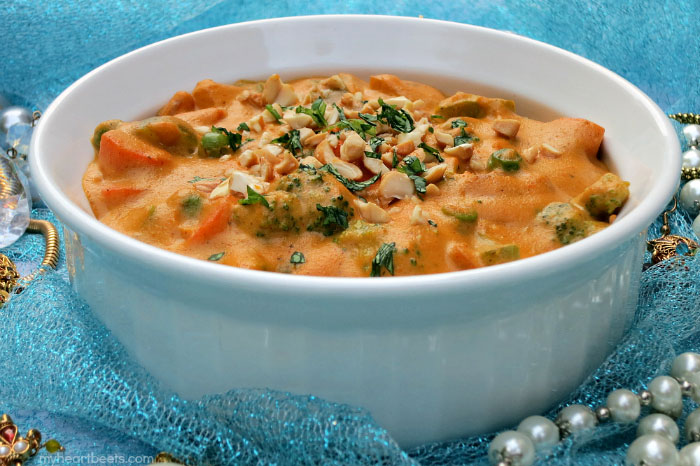 Ingredients
Diced Vegetables – as required (vegetables used in this recipe: 2 carrots, 1 potato, 1/4 cup green peas, 1/4 cup corn, 2 cups cauliflower florets and 1 cup green beans)
Cinnamon Sticks (Patta) – 2 half inch pieces
Cardamom (Elakka) -3
Cloves (Grambu) – 4
Star Anise (Thakkolam) – 1
Fennel Seeds (Perum Jeerakam) – 1/2 tsp
Bay Leaves – 2
Sliced Onion – 1 big
Slit Green Chillies – 5
Chopped Ginger – 2 tsp
Chopped Garlic – 2 tsp
Curry Leaves – A sprig
Cashew halves – 6
Raisins – 2 tbsp
Garam Masala Powder – 1/2 tsp
Coconut Milk – 1 Cup (Optional)
Oil – 3 tbsp
Salt – to taste
Water – As Needed
For Grinding
Grated Coconut – 2 Cups
Cashew nuts – 1/2 cup
Turmeric Powder – 1/4 tsp
Cumin Powder – 1/4 tsp
Coriander Powder – 1/2 tsp
Salt – to taste
READ ALSO: Delicious Fish Molee To Serve With Palappam
Method
Cover and cook the vegetables in 1/2 cup of water along with little salt, till they are half done. Use a non-stick pan while cooking the vegetables so that you have to use very little water. Do not overcook the veggies. It should be firm.
Heat a tbsp of oil in a pan. Add the cinnamon sticks, cloves, star anise, cardamom, bay leaves and fennel seeds and saute for a minute. You can also add a few cashews and raisins and saute for a minute. Remove everything with a slotted spoon. Keep the roasted spices and nuts aside.
Add 2 tbsp of oil to the same pan. Saute the sliced onions till translucent.
Add the slit green chillies, curry leaves, thinly sliced ginger and garlic pieces and saute for a few minutes.
Remove half of the above-sauteed onion mixture and allow it to cool.
To the remaining half, continue adding 1/2 tsp Garam Masala Powder and saute for a minute.
Add the half cooked veggies to the wok and saute lightly for a few minutes.
Add the roasted spices and nuts to the pan.
Meanwhile, grind coconut, cashews, sauteed onion mixture along with a pinch of turmeric, salt, cumin powder and coriander powder to form a thick paste. Add 1/2 cup of water while grinding.
Add the coconut-cashew-onion paste to the pan and mix everything well. (Grinding Onions is an optional step just to enhance the taste.)
Pour 1 cup of thin coconut milk/water for gravy. If you like more gravy, add more water. Simmer for 10 – 12 minutes. When the khurma cools, the gravy will thicken.
Your vegetable khurma is ready to serve with Triangle Parathas.