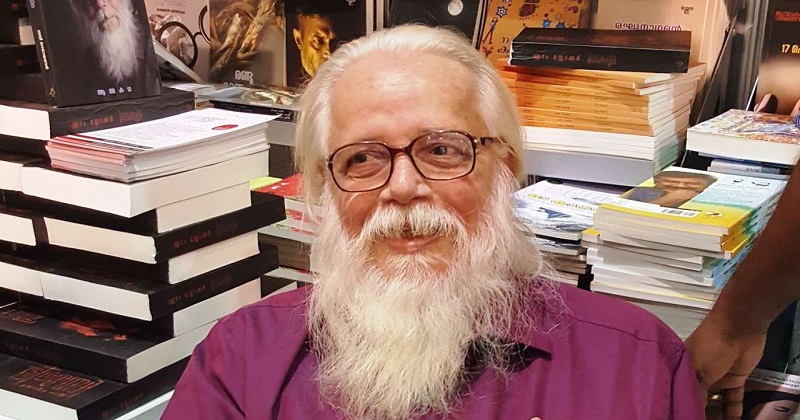 The Supreme Court on Friday stated that the arrest of Indian Space Research Organisation (ISRO) space scientist S Nambi Narayanan in the alleged spying case was "needless and unnecessary". The apex court also granted him a compensation of Rs 50 lakh and ordered a probe to ascertain the role of SIT officers who had framed him in the ISRO espionage case.
The court also appointed a retired SC judge committee to explore "ways and means" to bring justice to the former space scientist after he told the apex court that merely giving him a compensation for his suffering will not do justice.
"I have served the nation. I am hurt. It was a fabricated case. I have suffered the agony for ten years. The CBI gave me the clean chit and the closure report was accepted by the Magistrate," 76-year-old scientist told the bench headed by Chief Justice Dipak Misra. He had demanded a compensation of Rs 1 crore and action against the SIT officers who framed him.
Also Read: ISRO's Gets Window To Launch Chandrayaan-2; World's First Ever Mission
Narayanan has so far received Rs 10 lakh as compensation. The bench, comprising Justices A M Khanwilkar and D Y Chandrachud, had then said that it cannot give Rs 1 crore as compensation as the public remedy compensation. The bench further added that the compensation amount would be deducted from the salary or the pensionary benefits of the errant officers.
On May 9, the Supreme Court had noted that former ISRO scientist S Nambi Narayanan faced a dent in his reputation in the espionage case due to "malafide prosecution" and Kerala government cannot evade "vicarious liability" to grant him compensation.
"It is not the case that his (Narayanan) reputation was not dented. We can direct that his reputation be restored and for the loss of reputation we can give the compensation. There is a direct judgment to this effect and direct recovery from those officers who were involved in the investigation of the case," the bench had said.