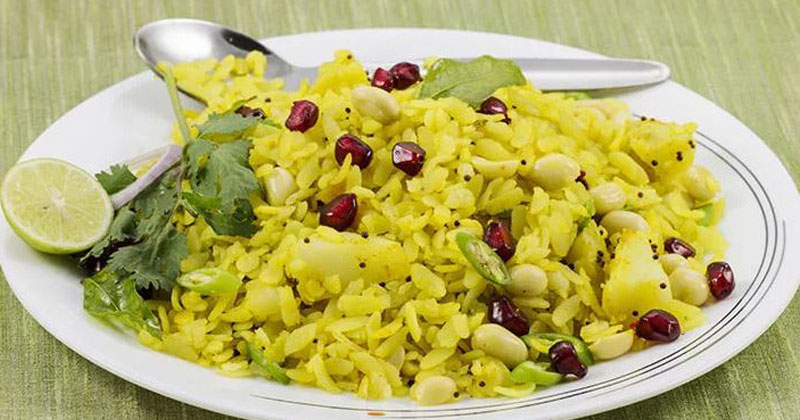 Poha is known as Aval in Kerala. So let's try out hand in Batata Poha- a simple Aval Upma.
Batata Poha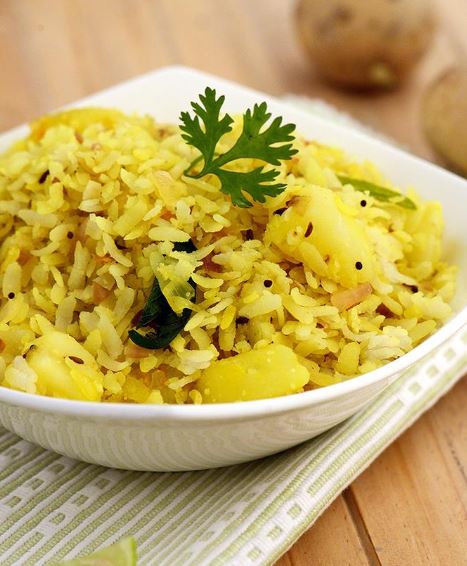 Ingredients
Poha (Beaten rice/Rice Flakes) – 2 cups (Thick or Thin Variety – Thick Poha used in this recipe)
Diced Onions – 1 small
Finely Diced Potatoes – 1 medium
Minced Green Chillies – 2 or 3
Groundnuts/Peanuts – 1/4 cup
Turmeric Powder – 1/2 tsp
Red Chilly Powder – 1 tsp
Mustard Seeds – 1/2 tsp
Grated Coconut – 1/4 cup
Oil – 2 tbsp
Salt – to taste
READ ALSO:  Sweet Gothambu Ada For A Simple Kerala Breakfast
Method
Wash the Poha 2 or 3 times until moistened. Drain and keep aside. If you are using thick Poha, soak it for around 5 minutes, then wash and drain.
Heat oil in a non-stick pan and splutter mustard seeds.
Add groundnuts and roast for a few minutes until it begins to change colour.
Add the onions and green chillies. Saute until the onions become translucent.
Add the potatoes along with turmeric powder, red chilly powder and salt to taste.
Cover and cook for a few minutes until the potatoes are done. Make sure not to overcook the potatoes.
Add poha to the pan and mix everything well.
Garnish with grated coconut and remove from stove top. Keep covered.
You can also sprinkle a few drops of lemon juice for more flavour.
Serve with Spicy Orange Juice.