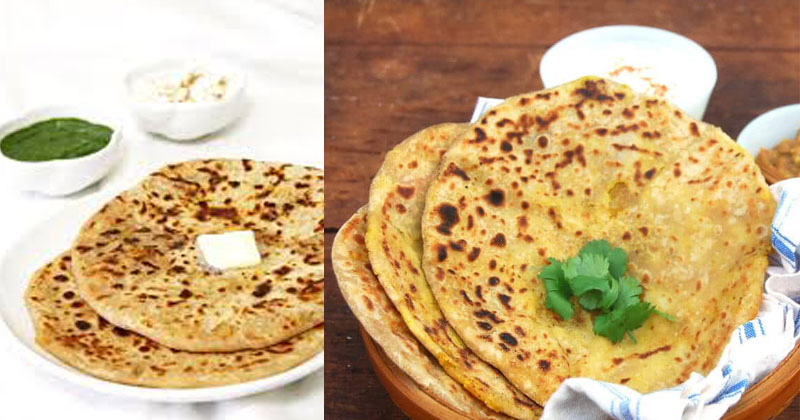 The main item in every North Indian household- Aloo Paratha
Aloo Paratha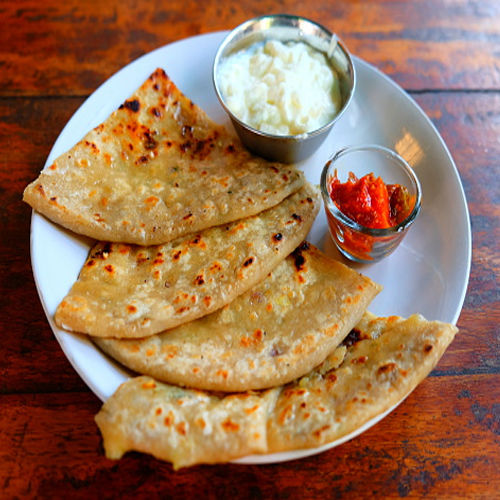 Ingredients
For the Dough
Wheat Flour – 2 cups
Water – 3/4 cup
Salt – to taste
Vegetable Oil – 3 tsp
Wheat Flour for dusting & rolling – as needed
For the Potato Stuffing
Potatoes – 2 medium sized ones
Turmeric Powder – 1/2 tsp
Red Chilly Powder – 1 tsp (Alter according to your spice tolerance)
Cumin Powder – 1/2 tsp
Finally Chopped Cilantro – 2 to 3 tbsp (Optional)
Salt – to taste
READ ALSO: Besan Carrot Dosa With Coconut Peanut Chutney- A Simple Breakfast Meal
Method
Making the dough
Take wheat flour in a big bowl. Add little salt and 1 tsp oil to the flour.
Add water little by little and start kneading to form a nice and smooth dough which is not sticky.
Drizzle a few drops of oil so as to coat the final dough.
Cover with a wet cloth or paper towel and keep it aside for 15-30 minutes so that the dough sets.
After 30 minutes, take the dough and knead it one more time for a few seconds.
Making the Potato filling
Pressure cook the potatoes along with salt until they are thoroughly cooked. You can also boil the potatoes for 15-20 minutes until tender.
Remove skin and mash the potatoes thoroughly using your hands until there are no lumps.
Add salt, cilantro, turmeric, chilly and cumin powders to the mashed potato and mix everything well.
Rolling out Parathas
Using your palms, make big lemon sized balls from the dough.
Flatten each ball and start rolling it on a rolling board to form a thick disc of 3-4? diameter.
Place 2 to 3 tbsp of the potato filling at the centre of the rolled out roti. Lift the edges of the Paratha and bring it towards the centre and seal it to make a ball.
Flatten the potato filled balls and dust it lightly in flour. Roll it out carefully to make a flat paratha. Dust it in flour as you roll out the parathas. Make sure that the filling doesn't come out when you roll the parathas.
Heat a tava or non-stick pan and place the rolled out paratha on it. Cook on medium heat until small brown spots start appearing on the underside.
Flip and cook the other side until it is golden brown and starts puffing. Apply a dab of oil on both sides of the paratha to make it soft.
Serve these hot Aloo Parathas with Curd and Pickle along with Banana Peanut Butter Smoothie.
Notes
To retain the softness of the Parathas, cover them in a cloth and place it in a Casserole so that it remains fresh.
Do not use grinder/mixie for mashing potatoes since the potatoes will stick to the blades and you will have a tough time cleaning the sticky mess.