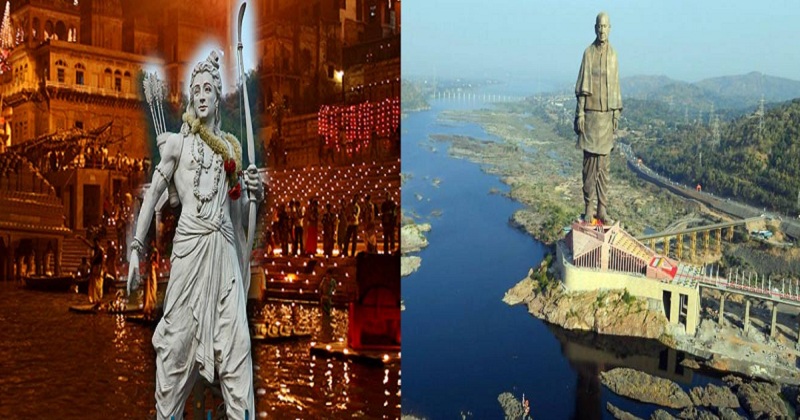 Taking a dig at Prime Minister Narendra Modi and Uttar Pradesh Chief Minister Yogi Adityanath, senior Samajwadi Party leader and former minister Azam Khan has said that Lord Ram's soon-to-be-constructed statue should be taller than the 'Statue of Unity' which is dedicated to Sardar Vallabhbhai Patel.
Azam Khan made these remarks in the backdrop of an announcement made by Uttar Pradesh Chief Minister Yogi Adityanath regarding construction of a 151-metre tall Lord Ram statue in Ayodhya.
The senior Samajwadi Party leader welcomed the idea with a pinch of salt.
"Lord Ram`s statue, which is likely to be built near the Sarayu river in the temple town, should be constructed taller than the recently-inaugurated 182-meter Sardar Vallabhai Patel`s statue," Khan said.
"Why did this thought not occur at the time of building the statue of Sardar Vallabhbhai Patel? Why would anybody oppose (the building of Lord Ram`s statue)? I would want an even taller statue of Lord Ram in Rampur," Khan added.
According to UP government sources, a formal announcement in this regard is likely to be made during the Deepawali festivities next week when CM Adityanath will be in Ayodhya.
Reportedly, saints in Ayodhya have been pressing for construction of a statue of Lord Ram similar to that of Statue of Unity.
Located near the banks of Narmada river in Gujarat, the 182-metre tall Statue of Unity occupies over 20,000 square metres and is surrounded by a 12-square km artificial lake.
The Statue was inaugurated by Prime Minister Narendra Modi on the 143rd birth anniversary of Sardar Vallabhbhai Patel – the first Home Minister and Deputy Prime Minister of India – on October 21.