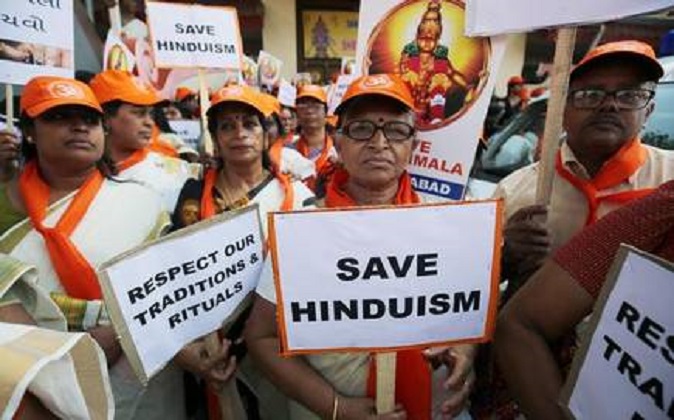 Sabarimala Karma Samithi who opposes the entry of women to the Lord Ayyappa temple at Sabarimala has decided to collect 1.5 crore signatures from devotees before November 13, when the Supreme Court will consider the review petitions against its September 28 verdict.
The signatures, being collected by the Samithi will be presented to the president of India. The Samithi has already started collecting the signatures. On November 11 and 12, 'Sabarimala protection meets' will be held at all district headquarters.
Participation of a large number of women will be ensured at all these programmes, the organizers claimed. The local karma Samithi have been asked to attract at least 25,000 people at each meeting.
The task is being coordinated directly by the RSS leadership. The Sangh Parivar leadership has scheduled a meeting of top functionaries on November 13 to discuss the measures to be adopted after the Supreme Court hearing on Sabarimala that day. The RSS leadership feels that the issue of blocking a 52-year-old woman at Sabarimala has taken the sheen off the stir.
The Sabarimala Karma Samithi says that 25 members of a hard-line Hindu organisation were responsible for the incident and the RSS members happened to be at the place. However, the police do not believe this version.
Major Hindu bodies are eagerly looking forward to the decision of the Supreme Court on November 13. If the order on the Sabarimala review petitions is not favourable, the stir would have to be given a new shape.
The RSS knows very well that the mode of agitation that it has launched now cannot be conducted during the entire pilgrimage season. The RSS will be trying to involve the Narendra Modi government in the matter before that date. However, there may be criticism over bypassing the state government if the Modi government introduces an ordinance or enacts a new law.
A section of the RSS leadership feels that the Sabarimala stir should be continued as long as possible and, when conditions are favourable, make the Central government introduce the ordinance.
A decision has been taken to ensure the participation of at least 1 lakh people during the conclusion of BJP's Sabarimala Rath Yatra in Pathanamthitta on November 13. A large number of women will also take part in the meeting.
The BJP state leadership is making an effort to invite national president Amit Shah to the event.