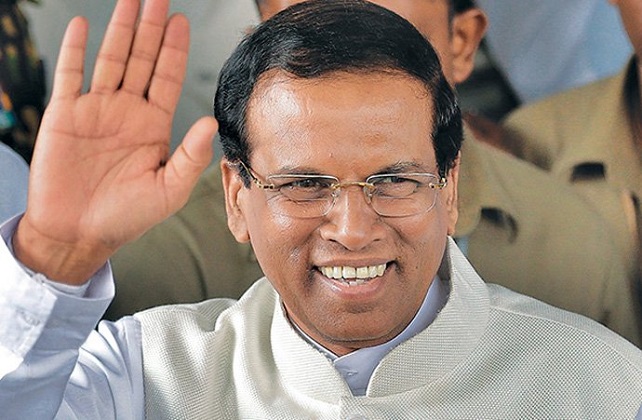 Sri Lankan President Maithripala Sirisena says he decided to dissolve Parliament and call fresh elections to avoid possible violence in Parliament.
Sirisena in his address to the nation Sunday said he heard stories of possible violence in Parliament that could even result in deaths and clashes spreading around the country after Speaker Karu Jayasuriya announced he was going to call for a vote to see whether Sirisena's choice for prime minister, former strongman Mahinda Rajapaksa, commanded enough support.
He said there were media reports that politicians would clash during a vote to decide between two men claiming the premiership.
Sirisena's decision was criticized by some political parties and civil society groups as unconstitutional and illegal.
The crisis began Oct. 26 when Sirisena sacked Ranil Wickremesinghe as prime minister and appointed Rajapaksa in his place. Wickremesinghe said his sacking was unconstitutional and still occupies the official residence.
Sirisena dissolved Parliament after his attempts to secure the backing of 113 members in the 225-member Parliament failed.
The island nation plunged into a constitutional crisis following the move. Sirisena had suspended parliamentary proceedings until November 16. Later, owing to domestic and international pressure, he issued a notice to reconvene parliament on November 14.
However, on Friday, Sirisena dissolved parliament and announced snap polls on January 5 next year after it became evident that he did not have enough support in the House to prove the premiership of Rajapaksa.
Sirisena also blamed parliamentary Speaker Jayasuriya for the current political situation.
"The other reason for my dissolution of parliament was the behaviour of Speaker Karu Jayasuriya. He issued statements saying that he would not recognize the appointment of a new prime minister using my presidential powers."
He said Jayasuriya's insistence of having a floor test on the very first day of the parliamentary session was unacceptable.
Jayasuriya, earlier, accused Sirisena of "usurping" the rights of legislators.