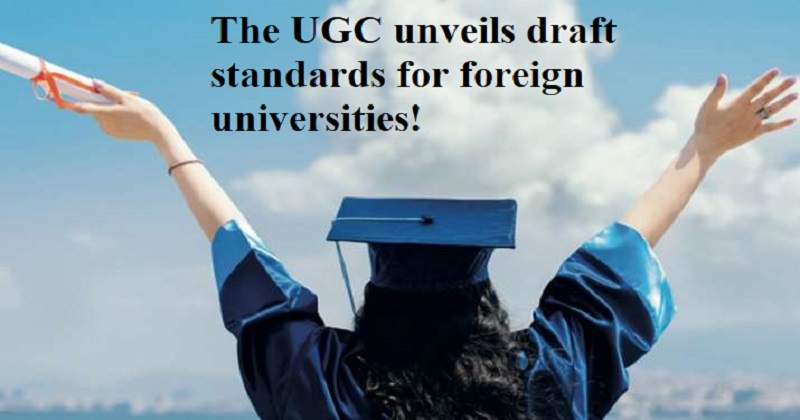 NEW DELHI: The University Grants Commission (UGC) on Thursday released draught regulations for stakeholder input, opening the door for foreign universities to open campuses in India. Under these regulations, these institutions will have autonomy to choose the admissions procedure, fee structure, and hiring practises.
Foreign institutions can only provide full-time programmes offline through its Indian campuses, and their foreign currency accounts must adhere to the Foreign Exchange Management Act (Fema) 1999 when it comes to cross-border money transfers and currency accounts.
By the end of January, the final rules should be available after taking into account the comments and recommendations. Regarding the proposed regulations for the creation of Indian campuses of Foreign Higher Educational Institutions (FHEIs), UGC chairperson M Jagadesh Kumar stated that they will need UGC approval to set up their campuses in India. The Indian campuses of FHEIs will receive initial permission for ten years, which will be renewed after the ninth year, provided that certain requirements are met.
The laws further state that these schools must not provide any programmes that endanger the national interest or the quality of higher education in this country. ' The operation of FHEIs should not be in conflict with the sovereignty and integrity of India, the security of the State, friendly relations with foreign States, public order, decency, or morality,' says the draft.
A 'Letter of Intent' would be provided to an institution, on the basis of which it would be expected to begin building the campus within two years and to ensure 'sufficient physical infrastructure in terms of built-up area for their academic programmes'.
Universities that have earned a spot in the top 500 of the worldwide overall or subject-based rankings or a reputable institution in its home jurisdiction would be the only international institutions allowed to apply for setting up campuses in India. Although these institutions will be allowed to choose their own admission standards and tuition rates, UGC has advised that the costs be maintained 'fair and transparent'.
Foreign Higher Education Institutions (HEIs) will be given special dispensation regarding regulatory, governance, and content norms on par with other autonomous institutions of India. Foreign faculty appointed to teach at the Indian campus will have to stay at the campus in India for a reasonable period. FHEIs also need to lay out a plan that in case of course or programme disruption or discontinuation or closure of the campuses, what will be the alternative arrangements to safeguard the interests of the affected students.