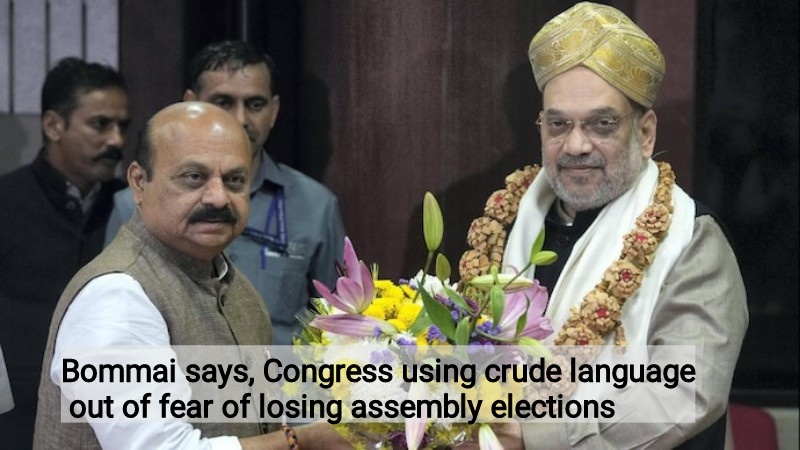 Basavaraj Bommai, the chief minister of Karnataka, claimed on Saturday that the Congress party was employing tacky language because it was worried about losing the upcoming state assembly elections.
'The cheap language used by the Congress leaders shows that they are facing the fear of losing the upcoming Assembly polls, and the state electorate would never prefer them for the top post,' said CM Bommai.
He pleaded with the electorate to abstain from voting for the Congress and instead support the BJP candidates in order to form the strongest, most active, and development-focused government possible.
Bommai thanked Union Home Minister Amit Shah for outlawing the radical Islamic group Popular Front of India while he was present at the event (PFI).
'Amit Shah took a bold decision to ban PFI and check terrorist activities. Development is possible only if the country is safe and secure. Everyone must support strengthening the laws,' said the chief minister.
Bommai noted the bomb blast incidents that occurred under the Congress administration and claimed, 'Under the Modi government, people are living peacefully. Due to bomb blasts and terrorist attacks, nobody was at peace during the UPA's tenure under Congress.'
In the name of social justice, he also charged the grand old party with defrauding the SC and ST communities.
'The present BJP government has ensured them social justice. When farmers were in difficulty, Yediyurappa (the state's former CM) went to their rescue,' remarked Bommai.
Amit Shah, the Union Home Minister, Pralhad Joshi, the Union Minister for Coal, and others were in attendance.