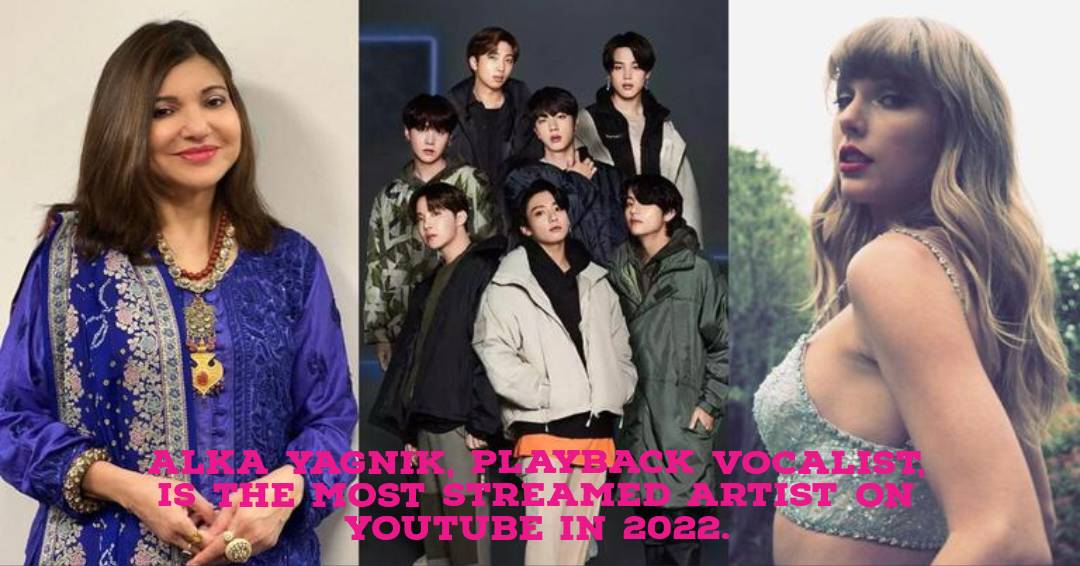 Alka Yagnik, a singer, has surpassed South Korean idols BTS to become the most streamed artist in the world on YouTube in 2022. Alka Yagnik was the most streamed musician on YouTube in 2017 with 15.3 billion streams, declared the official Guinness World Records Twitter account. Alka has an average of 42 million streams per day, says the research.
The singer was also named the most popular artist on YouTube in 2021 and 2020, surpassing rapper Bad Bunny (from Puerto Rico), who is in second place. Indian singers Udit Narayanan, Arijit Singh, and Kumar Sanu are among the top 5 most streamed artists with a combined 10.8 billion streams, 10.7 billion streams, and 9.09 billion streams, respectively.
Among the top 10 are the well-known South Korean bands BTS (7.95 billion streams) and BLACKPINK (7.03 billion), while Taylor Swift came in at number 26 with 4.33 billion streams.
Who is Alka Yagnik?
One of Bollywood's most well-known playback singers is Alka Yagnik. The multi-award-winning vocalist has contributed her voice to numerous regional musical albums in addition to singing over 8,000 songs in films alone. Alka was raised in a musically minded family and was born in Kolkata. Shubha, her mother, was a classical vocalist as well.
She made her film debut performing a song in the 1980 film 'Payal Ki Jhankaar.' She continued singing in movies after that, but her major break came when she sang Ek Do Teen in the movie 'Tezaab.'
She has worked with a number of well-known people throughout the course of her four-decade career, including award-winning writer Javed Akthar. She has also shared the stage with renowned Indian music composer duos Kalyanji-Anandji and Laxmikant-Pyarelal.