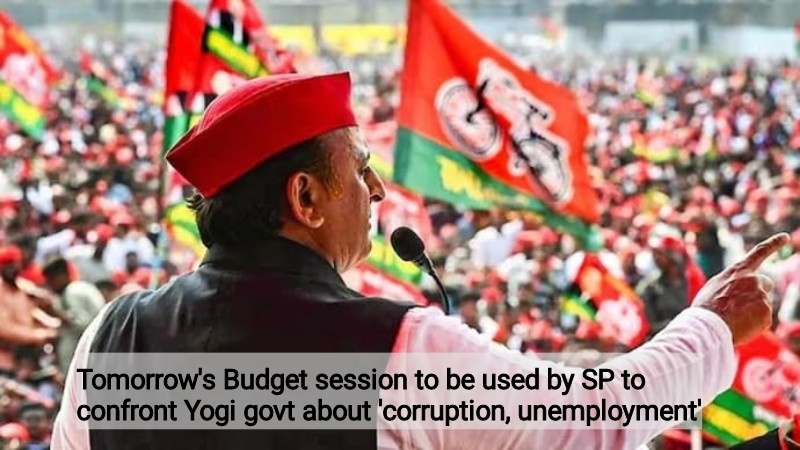 On Sunday, Samajwadi Party leaders called a legislative party meeting in the Assembly constituency without the party's leader, Akhilesh Yadav. Shivpal Yadav, an MLA, and other SP leaders in Lucknow arrived at the party office to set their agenda for the upcoming Uttar Pradesh Assembly Budget session, which starts on Monday and is scheduled to last until March 10. According to reports, the state budget will be produced on February 22.
Akhilesh Yadav reportedly missed the party meeting because he was in London for his daughter's college admissions.
Speaking to reporters, an SP MLA named Ravidas Mehrotra said that Rajpal Kashyap, state president of the Samajwadi Backward Class Cell, would give a speech outlining the shortcomings of the Bharatiya Janata Party-led government in Uttar Pradesh.
'Today, the public is disappointed in the government (led by Chief Minister Yogi Adityanath) as they have failed on all fronts. Unemployment has increased, people are upset and we will speak up for them,' the Samajwadi Party MLA said.
'The incumbent state government is submerged in corruption and thus the Samajwadi Party will oppose the speech of the governor in Uttar Pradesh Assembly,' he said.
Looking forward to confronting the current BJP-led government in the Assembly session that is scheduled for tomorrow, Manoj Pandey, an SP MLA, said: 'The Budget session has been especially talked about. And we have given assurance on behalf of our party that the Samajwadi Party believes in longhouse and discussion.'
Later in the evening is also when the BJP Legislature Party meeting will take place before the UP Budget session. The Lok Bhavan will host the meeting. At the party meeting will be CM Yogi, both deputy CMs, and the state president. There will also be representatives from the Legislative Council and Legislative Assembly.