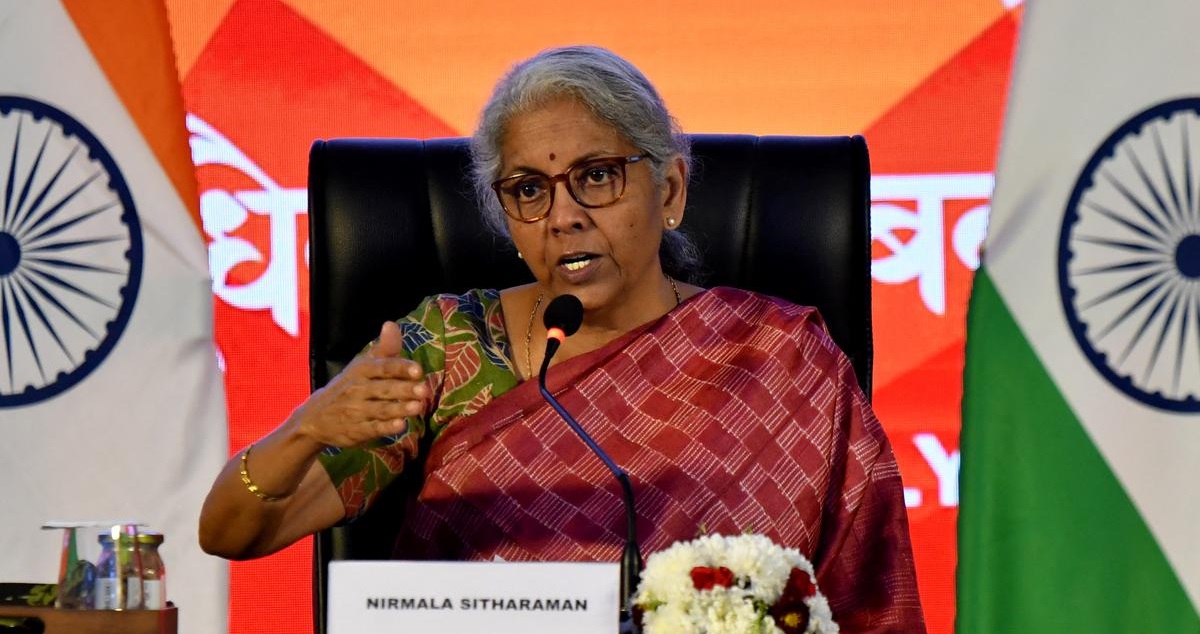 Bengaluru: Union Finance Minister Nirmala Sitharaman said on Saturday that India's G20 presidency has received strong support from all members on all key priorities. Extending gratitude towards US Secretary Janet Yellen for putting her support, the Finance Minister also said that she is grateful for the USA and UK, who were very supportive of the global coordination framework, particularly on the crypto.
Addressing a press conference on the concluding day of the 1st Finance Ministers and Central Bank Governors meeting, Sitharaman said, 'Saudi Arabia came to help with the resolution on fuel security. China and Saudi Arabia came forward on climate finance mobilization. Japan and the United Kingdom supported all priorities of India's G20 presidency'. Reserve Bank of India Governor Shaktikanta Das was also present on the occasion.
Noting the success of the Unified Payments Interface, RBI Governor said that the UPI attracted a lot of attention. In fact, during the deliberations, quite a few finance ministers and the central bank governors did mention it as a success story, which can guide the future of interoperable payment systems between countries and for the cross-border transfer of money. India also pressed for expeditious resolution of the debt vulnerabilities being faced by low and middle-income countries like Sri Lanka, Ghana, Zambia and Ethiopia.
The meeting of the 1st Finance Ministers and Central Bank Governors (FMCBG) under India's G20 presidency agreed to strengthen multilateral coordination by official bilateral and private creditors to address the deteriorating debt situation and facilitate coordinated debt treatment for debt-distressed countries. 'We are looking at a more efficient and quick resolution. The sheer fact that countries had to wait for years for instance Zambia had waited for more than a year and a half and there have been countries that went back on the request because they waited for two years. Sri Lanka is waiting for a resolution but in the meanwhile because of delays, they are feeling the stress even more', Sitharaman said.
'So it is more from the point of view of getting creditors to the table. Sometimes even non-sovereign private funders will have to be joining in this table. That is why when the IMF and World Bank held the roundtable at the deputies level, all of them participated- Exim Banks, Central Bank also Private creditors were all brought to the round table', she said. 'We welcome the conclusion of debt treatment for Chad and call for a swift conclusion of the work on debt treatment for Zambia and Ethiopia. We also look forward to the rapid formation of the official creditor committee for Ghana to work on the requested debt treatment. Further, we look forward to a swift resolution to Sri Lanka's debt situation', she added.
Speaking on the issue, Economic Affairs Secretary Ajay Seth said, there is an urgency to address the vulnerabilities of low and middle-income countries. Officials and bilateral and private creditors have to work towards finding an early solution. With regard to the strengthening of Multilateral Development Banks (MDBs), Sithraman said, 'I am very grateful that India's presidency has received strong support on all our key priorities. India particularly got support for our proposal to bring in an expert panel for providing a narrative for an updated vision of the MDBs and that can make them capable of meeting cross border challenges'.
The expert group has been mandated to submit a report in 3 months so that in the July meeting we will be able to take up the discussions and any follow-up that is required, she said. Talking about the formation of the group, Sitharaman said, former Treasury Secretary Larry H Summers would head the panel and former bureaucrat N K Singh would be co-chair. Talking about other issues, she said, G20 expressed commitment to advancing financial inclusion and ensuring that no one is left behind. While significant progress has been made in recent years, nations agreed that accelerated efforts are needed to address the remaining challenges and achieve the three-fold objective of access, usage and quality of financial services for individuals and micro, small and medium-sized businesses, particularly the vulnerable and underserved, she said.