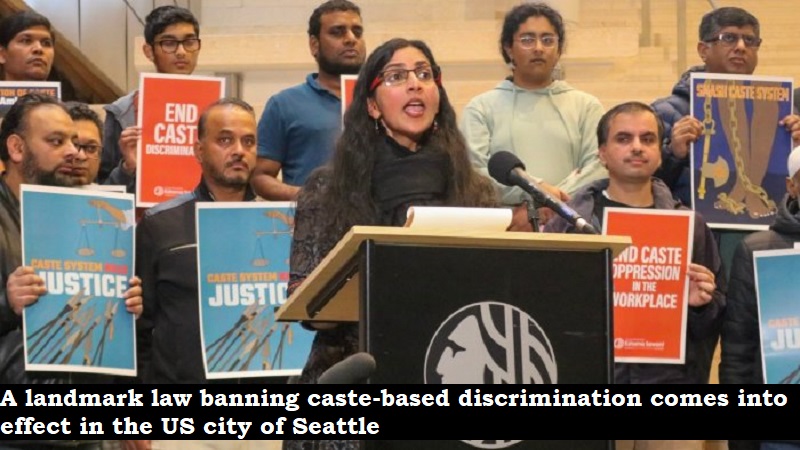 Seattle has become the first city outside India to implement a landmark law prohibiting caste-based discrimination. The legislation was proposed by Kshama Sawant, an Indian-American politician and economist, and was unanimously approved by the Seattle City Council with a six-to-one vote.
The new law prohibits businesses in the city from discriminating against individuals based on their caste in relation to hiring, promotions, wages, and workplace conditions. It also bans discrimination in public accommodation, such as hotels, public transportation, public restrooms, and retail establishments. Housing discrimination based on caste is also prohibited in rental housing leases, property sales, and mortgage loans.
Sawant believes that the Seattle law represents a significant breakthrough in the global fight against caste oppression and hopes it will inspire similar policies in other cities and states in the US. She emphasises that further victories are not guaranteed unless activists and working people adopt the kind of fighting strategy used to win in Seattle.
Sawant and her team plan to host a public hearing in May to enforce the new law and to build a united movement of working people independent of the establishment that represents big business and the status quo.
Some Indian-Americans fear that codifying caste in public policy will further fuel instances of Hinduphobia in the US. Over the last three years, ten Hindu temples and five statues, including those of Mahatma Gandhi and Maratha emperor Shivaji, have been vandalised across the US as an intimidation tactic against the Hindu community.
Indian-Americans are the second-largest immigrant group in the US, with 4.2 million people of Indian origin residing in the country.
India banned caste discrimination in 1948 and enshrined that policy in the Constitution in 1950. However, the caste system still persists in India, and caste-based discrimination remains a significant problem, especially in rural areas.
Seattle is the first jurisdiction at any level globally outside South Asia to ban caste discrimination, and Sawant hopes that her efforts will inspire others to take similar action.