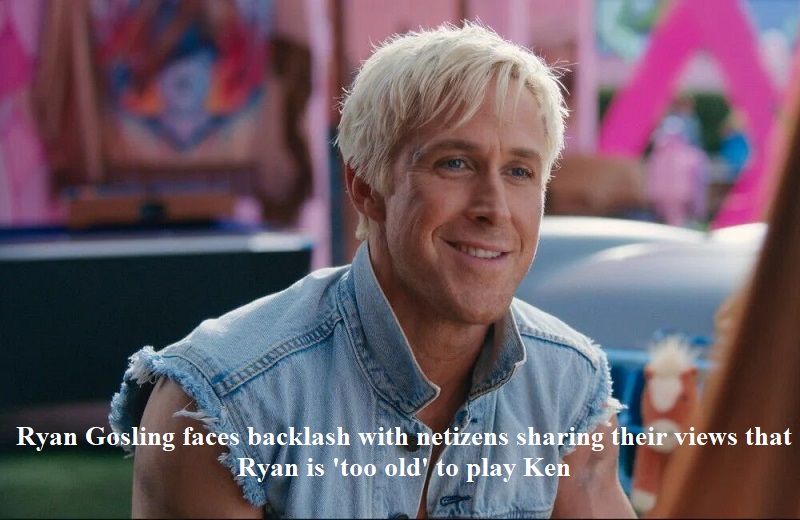 Ryan Gosling is set to appear in Greta Gerwig's highly anticipated film Barbie alongside Margot Robbie. Gosling portrays the character of Barbie's boyfriend, Kent, but since the first look of the actor was unveiled, he has faced criticism from netizens who believe he is "too old" to play Ken.
Under the hashtag #NotMyKen, internet users expressed their discontent with Gosling's casting. After enduring months of trolling, the actor has finally responded to the critics in a positive manner.
In a recent interview with GQ, Gosling stated, "I would say, you know, if people don't want to play with my Ken, there are many other Kens to play with," as reported by Page Six.
Furthermore, Gosling finds the situation amusing, as he believes nobody really cared about Ken before this controversy arose. He added, "It is funny … this kind of clutching-your-pearls idea of, like, #notmyken. Like you ever thought about Ken before this? But suddenly, it's like, 'No, we've cared about Ken this whole time… No, you didn't. You never did. You never cared. Barbie never f–ked with Ken. That's the point."
Gosling concluded by asserting that those who claim to care about Ken are hypocritical and that his story must be told.
Upon the release of the trailer, numerous netizens criticized Gosling's casting, citing his age as a factor. Comments such as "Ryan Gosling is too old to be playing Ken, I'm sorry his wrinkles are taking me out of the experience" and "Ryan Gosling is too ugly and too old to be playing Ken, they should've casted Henry Cavill or Chris Evans bye" circulated online.
Recently, Warner Bros. unveiled a new trailer for the upcoming Barbie film, featuring Ryan Gosling and Margot Robbie as the leads portraying Ken and Barbie. While the movie's plot has been kept under wraps, the trailer hints that Barbie and Ken find themselves in the real world, where they confront the challenges of reality.
The star-studded cast of Barbie includes America Ferrera, Simu Liu, Issa Rae, Kate McKinnon, Michael Cera, Ariana Greenblatt, Alexandra Shipp, Emma Mackey, Kingsley Ben-Adir, Rhea Perlman, and Will Ferrell.
Barbie is set to premiere in cinemas on July 21, 2023.