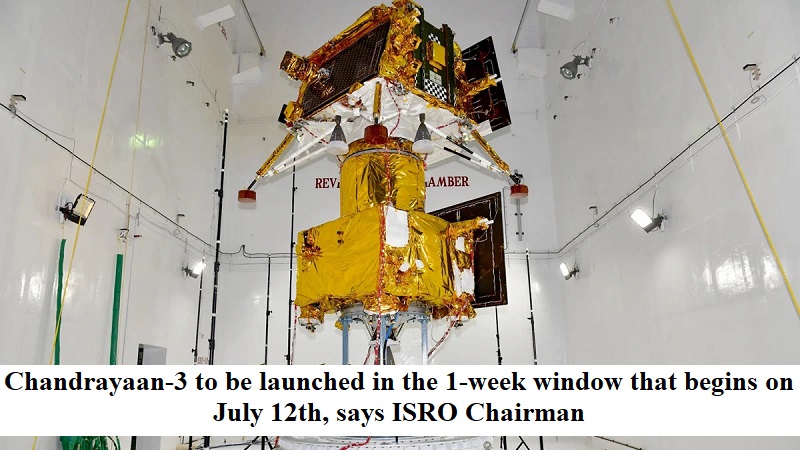 India's upcoming Lunar Mission, Chandrayaan-3, will have an orbiter known as the Propulsion Module, but unlike its predecessor, it will not carry scientific payloads. Consequently, the orbiter's weight is reduced compared to the previous mission, Chandrayaan-2. However, the payload mass that was removed from the orbiter has been added to the Lunar lander of Chandrayaan-3. The Indian Lunar spacecraft consists of three components: the Orbiter, Lander, and Rover.
Dr. S Somanath, the Chairman of ISRO (Indian Space Research Organisation), stated that the additional mass on the Lunar lander includes more fuel, enhanced durability, measures to tolerate failures, strengthened landing legs, increased scientific payloads, and larger solar panels for improved power generation. He provided this information in response to WION's query about whether Chandrayaan-3 would weigh less than its predecessor, which weighed approximately 3.6 tonnes (3,600 kilograms).
During a press conference held alongside ISRO's inaugural International Conference on Spacecraft Mission Operations, the Chief of the Indian Space Agency revealed that Chandrayaan-3 is scheduled to be launched within a one-week window commencing on July 12th, if everything goes according to plan.
Deep space missions are launched during specific timeframes, considering various factors such as the dynamic position of the destination relative to Earth, travel time, mission objectives, the rocket used, the movement and influence of celestial bodies, and more.
Elaborating on the progress of Chandrayaan-3, Dr. Somanath mentioned that the propulsion module (orbiter), lander, and rover of the spacecraft were undergoing testing, while the LVM3 rocket, India's largest, was being integrated. He stated that the integration of the LVM3 rocket would be completed by the end of June, and the spacecraft itself would be ready by early July.
When asked about his confidence in the mission's success, Dr. Somanath expressed his perpetual confidence while acknowledging the unforgiving nature of space. He emphasized the importance of rigorous testing and sound decision-making in achieving favorable results. With a smile, he also mentioned that even luck is a byproduct of hard work and perseverance in doing the right thing at the right time.
Chandrayaan-3 will follow the same path and trajectory as its predecessor since it is a proven and tested route to the moon, which is located approximately 384,000 kilometers away from Earth. The journey is expected to take around a month and a half due to the adoption of an indirect route. In September 2019, Chandrayaan-2 crash-landed on the lunar surface moments before its planned controlled vertical landing at the Lunar South Pole. By achieving a successful Lunar landing, India aspires to join the ranks of nations such as the US, Russia, and China.