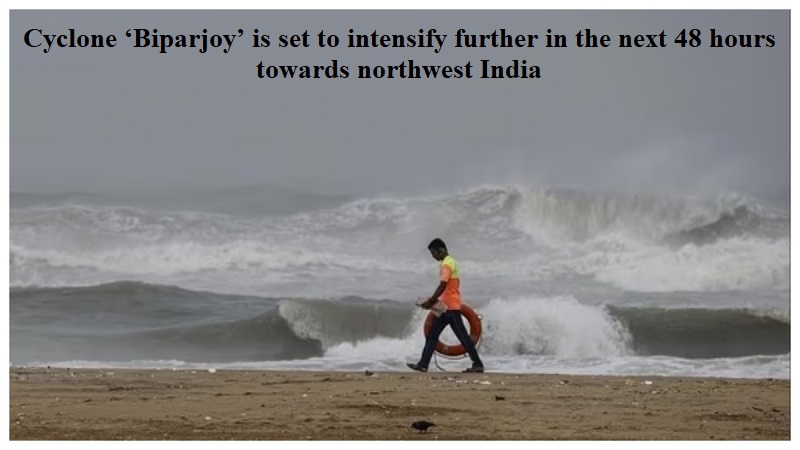 The India Meteorological Department (IMD) announced that Cyclone 'Biparjoy' is expected to further intensify over the next 48 hours and move towards northwest India. This cyclone is likely to influence the monsoon in the country, which would be favorable for the onset of the monsoon over Kerala. The IMD also stated that the cyclone would dissipate clouds and moisture, delaying rainfall for the next three days.
According to the weather department's tweet, as of 2330 hrs IST on June 7, Cyclone 'Biparjoy' was located in the east-central Arabian Sea near lat 13.6N and long 66.0E. It was approximately 870km west-southwest of Goa and 930km southwest of Mumbai. The cyclone is expected to gradually intensify over the next 48 hours and move in a north-northwest direction over the next three days.
The forecast brings relief to farmers across India who rely on rainfall for irrigation. The monsoon season, occurring from June to September, contributes around 75% of the country's annual rainfall and supports over half of its arable land. A delayed monsoon could affect the timely sowing of crops and the availability of necessary precipitation.
Currently, Cyclone 'Biparjoy' is situated 990 kilometers southwest of Mumbai and 1360 kilometers south of Karachi, Pakistan. The wind speeds may increase to 145-155 kilometers per hour by Friday, with the possibility of reaching 170 kilometers per hour, equivalent to a Category 2 storm.
In preparation for the cyclone, the state-run explorer Oil & Natural Gas Corporation has evacuated some individuals from its drillship Sagar Vijay in the Arabian Sea. Hindustan Petroleum Corporation Limited and Bharat Petroleum Corporation Limited have stated that refinery operations are unaffected but precautionary measures are being taken.
The Gujarat government has declared its full preparedness to handle any potential natural calamities and has issued a warning to fishermen not to venture into the Arabian Sea until June 14. The cyclone is expected to bring light rains to Saurashtra and south Gujarat regions between June 9 and 11. The impact of the cyclone is also anticipated in other southwestern states such as Maharashtra, Karnataka, and Goa, as the IMD has issued a wind warning for the next five days in these areas.