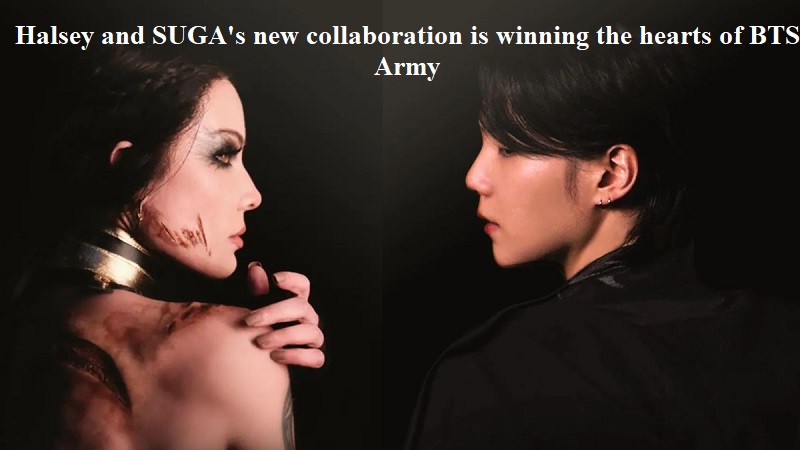 Halsey and SUGA's latest collaboration is capturing the hearts of the BTS Army. Many fans may remember Halsey's feature in BTS' "Boy With Luv" back in 2019. Their first collaboration with SUGA was in "SUGA's Interlude," a deep track from Halsey's previous album, Manic. Now, in 2023, the duo has come together again for "Lilith (Diablo IV Anthem)."
The new version of the song, "Lilith," features an original verse by SUGA and beautiful harmonization by the duo. It has quickly climbed the iTunes song charts in 65 countries and has become SUGA's seventh song to top iTunes in the US. Additionally, the song has reached #17 on Spotify, accumulating over 2.6 million streams.
This isn't the first time a collaboration between Halsey and BTS has achieved chart-topping success. Earlier this year, "Boy With Luv" joined Spotify's exclusive "Billions Club" by surpassing 1 billion streams, making it the first Korean language song to achieve this milestone. Two of BTS's English language songs, "Butter" and "Dynamite," have also surpassed a billion streams.
Regarding the song "Lilith," it was originally a lesser-known track from Halsey's most recent album, If I Can't Have Love, I Want Power. The album was accompanied by an hour-long film of the same name, directed by Colin Tilley, which featured Halsey as "Queen Lila." Tilley has previously directed music videos for Halsey's songs "Without Me" and "You Should be Sad."
In the revamped version of "Lilith," SUGA contributes an original verse, and the duo's harmonization adds a melodious touch to the song.