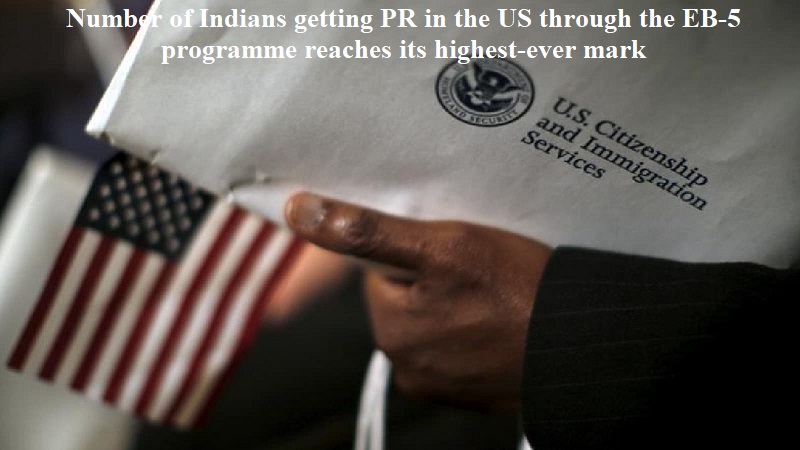 The number of Indians who have obtained permanent residency and green cards in the United States through the EB-5 program, also known as the green card by investment program, has reached its highest level ever.
For many affluent Indians, the EB-5 program has proven to be not only one of the quickest but also the most dependable ways to secure a US green card.
The Indian government's recently published data on citizenship renunciations also indicates a growing number of Indians seeking a better future in Western countries.
In 2022 alone, 225,000 Indians opted for US citizenship, with nearly half of them (78,284) choosing the United States, followed by Australia, Canada, and the UK.
So, what exactly is the EB-5 visa program? The EB-5 visa program allows investors to obtain a conditional green card initially valid for two years. To be eligible for the conditional green card, investors must invest a specified amount of capital, typically around ?8.6 crore or ?6.4 crore, in a Targeted Employment Area (TEA) and create or preserve a certain number of jobs in the United States.
After holding the conditional green card for two years, EB-5 visa holders can apply to have the conditions removed by submitting an application to the US Citizenship and Immigration Services (USCIS). This process involves demonstrating the sustainability of the investment and the creation or maintenance of the required jobs.
If the application is approved, the investor is granted a permanent green card, providing them with permanent residency in the United States for ten years.
EB-5 visa residencies have seen a remarkable increase of 400 percent in just three years among Indian investors, as reported by Hindustan Times.
What makes the EB-5 visa program so popular? One of the significant advantages of the EB-5 visa is the absence of restrictions on the area where visa holders can study or work. They are also eligible to start businesses anywhere in the country. Furthermore, the program has become more accessible and appealing due to the option of concurrently filing the EB-5 visa petition.
Another reason behind the growing number of Indians turning to the EB-5 visa program is the assurance of long-term residency in the US. The possibility of obtaining residency through years of employment is becoming increasingly unlikely.