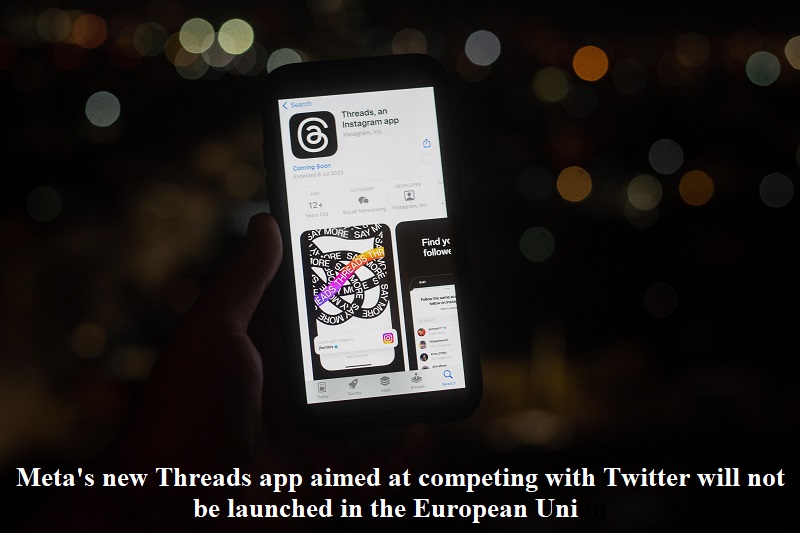 According to media reports, Meta's upcoming Threads app, designed to compete with Twitter, will not be launched in the European Union (EU) on Thursday. A source close to the company revealed that the decision to hold back the release in the EU is due to regulatory concerns. Specifically, Meta is seeking clarity on the EU's Digital Markets Act (DMA), which is set to be fully implemented next year.
The Digital Markets Act (DMA) is a regulatory framework introduced in Europe to tackle the dominance of large digital platforms and promote fair competition in the digital market. It imposes obligations and restrictions on "gatekeeper" platforms with significant market power.
One of the regulations established by the DMA prohibits platforms from sharing data across different services and restricts them from exclusively directing users to their own products.
The decision by Meta to delay the launch of the Threads app in the EU is likely driven by the need to ensure compliance with these new regulations. Reports suggest that Meta's previous attempts to leverage data from WhatsApp for the benefit of Instagram and Facebook have drawn scrutiny from European regulators, resulting in conflicts with EU rules.
By postponing the release of the Threads app in Europe, Meta aims to avoid further clashes with EU regulations. The Data Protection Commission in Ireland, where Meta's EU headquarters are based, confirmed that Meta has stated it will not release the app in Europe "at this point."
The Threads app, as described on the app stores in the United States, collects personal data for advertising purposes, including contact and geolocation information. It provides a platform for communities to engage in discussions on various topics, allowing users to connect with favorite creators and like-minded individuals. Users can also establish their own following and share their thoughts with a wider audience.
Meta, along with other major companies like Amazon and Apple, has informed the EU that they meet the threshold to be subject to the new rules when they come into effect. This indicates Meta's recognition of the importance of complying with the DMA and its active engagement with the regulatory framework to align its future operations with EU requirements.
Meta did not provide an immediate comment when contacted by AFP, leaving open the question of how the company will navigate the regulatory landscape and address the concerns raised by the EU.