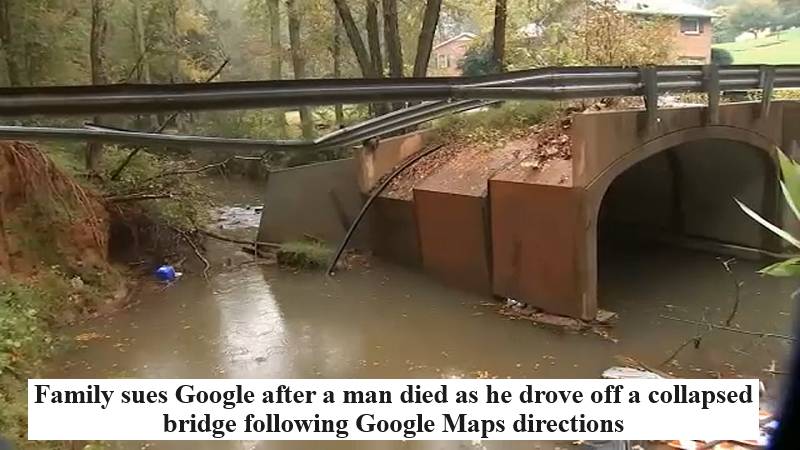 The family of a man from North Carolina has filed a negligence lawsuit against the technology giant Google, following his tragic death as he drove off a collapsed bridge while relying on Google Maps directions. According to a report by the Associated Press on Thursday, September 21, Philip Paxson lost his life on September 30, 2022, when his Jeep Gladiator plunged into Snow Creek in Hickory, resulting in his drowning.
Paxson, a medical salesperson and father of two, was on his way home from his daughter's ninth birthday party and was navigating through an unfamiliar neighborhood when Google Maps allegedly guided him to cross a bridge that had collapsed nine years earlier and had never been repaired.
Upon finding Paxson's overturned and partially submerged Gladiator truck, troopers noted the absence of barriers or warning signs along the washed-out roadway.
The lawsuit claims that multiple individuals had informed Google Maps of the bridge's collapse in the years leading up to Paxson's tragic accident, urging Google to update its route information. The lawsuit also names several property management companies as responsible for the bridge and the adjacent land.
The North Carolina State Patrol revealed that neither local nor state officials were responsible for maintaining the bridge, and the original developer's company had dissolved.
The court filing on Tuesday included email records from another Hickory resident who used the map's "suggest an edit" feature in September 2020 to alert Google that it was directing drivers over the collapsed bridge.
In November 2020, Google confirmed receiving the resident's report and indicated that it was reviewing the suggested change. Nevertheless, according to the lawsuit, Google took no further action.
Google spokesperson José Castañeda expressed the company's deep sympathy for the Paxson family and mentioned that Google is in the process of reviewing the lawsuit. He emphasized that Google's objective is to offer accurate routing information in Google Maps.
In the wake of Philip's tragic death, his family is seeking unspecified compensatory and punitive damages. Philip's wife, Alicia Paxson, expressed the profound impact of the loss on their family, particularly their daughters, who continue to question how and why their father died. She highlighted the difficulty of explaining the situation to her children, given the apparent disregard for human life displayed by those responsible for GPS directions and bridge maintenance.