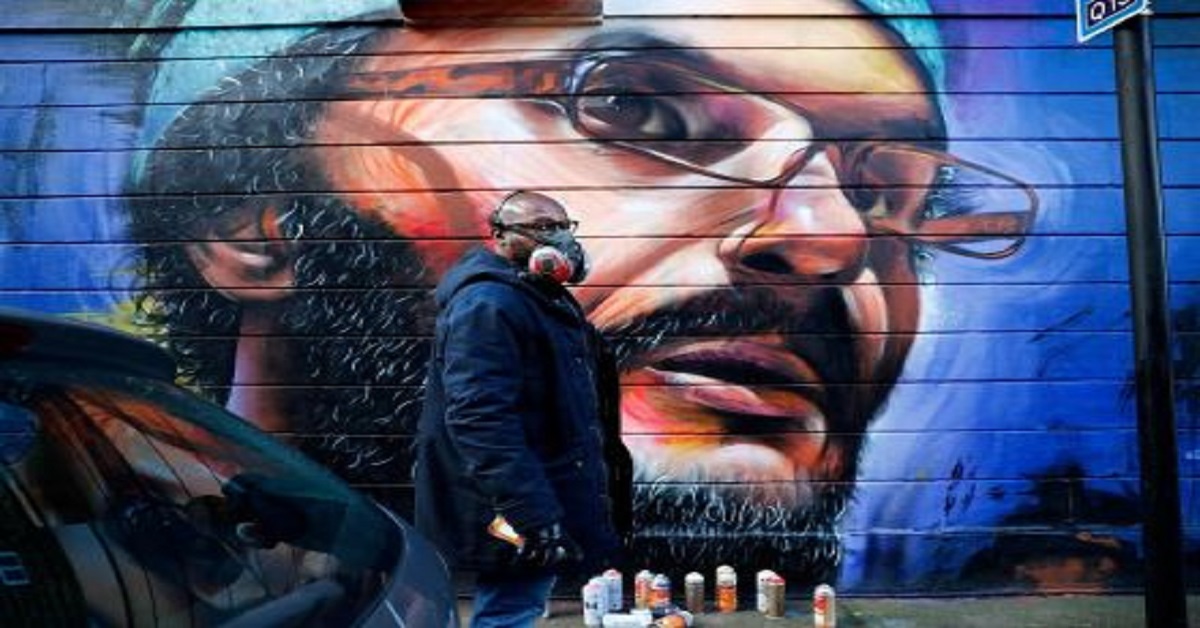 Immigrants are often viewed as dangerous and untrustworthy. The locals fear them due to the way they dress and talk. But is this portrayal right?
Spray can in hand perched halfway up a ladder, Neequaye Dreph Dsane applied the final touches of color to his latest mural enlivening an otherwise drab side street in east London.
The once-dingy area is now a hipster hangout and home to the second in a series of new portraits by the British-Ghanaian artist, known as Dreph.
His mission: to paint a positive picture — literally — of immigrants in Britain, in an era when he feels they are increasingly maligned by gentrification, Brexit, and the rise of nationalism.
The muralist — who rose to prominence last year with a striking street portrait series celebrating black female empowerment — wants to use his rising profile to showcase these "community champions".
"With Brexit and seeing the effects of gentrification that's happening across the city, I've been inspired to tell the human stories of the people who are the soul of some of the communities that make London such a culturally rich, cosmopolitan city," he told AFP between bursts of spray paint.
"I don't think we hear enough about the people who have come from different parts of the world, and just done some absolutely amazing stuff for their communities, which is essential for this country."
READ ALSO: Sonam Kapoor's painting to be auctioned off, bidding starts at lakhs
'Andy Warhol of Marrakech'
Dreph's latest mural depicts Hassan Hajjaj, a British-Moroccan artist who divides his time between the two countries and has had an office-showroom-shop in Shoreditch since 2005.
Hajjaj mines various contemporary cultures in his works — which include photos, video, sculpture, and design — earning him the moniker the "Andy Warhol of Marrakech."
He exhibited at London's Somerset House galleries late last year.
Dreph, 43, was inspired to paint his friend Hajjaj because "he has managed to fuse his native Marrakech with things that are popular to the West."
"That's what his work is about and… exactly what I'm trying to do with this series."
In the mural — nearly three meters high and over six meters wide (10 by 20 feet) — Hajjaj poses intensely, his greying beard intricately captured with speckles of white spray paint, framed by an eye-catching purple background.
"I still feel a bit strange seeing myself that big," he said, staring up at the wall.
"I feel very proud to be a part of Dreph's body of work… He's trying to present people of color, people from a different background coming here.
"We don't have that many people present, people like us in London in music, fashion, art, food," Hajjaj added.
READ ALSO: The price of this painting equals to a state's monthly income
'All organic'
Dreph, a father of one and former graffiti artist and school art teacher, has produced his work on streets around the world.
In London, he gets informal agreement to convert walls into canvases, often just knocking on people's doors to ask permission.
His "You Are Enough" portraits project, completed last year, went viral across platforms like Instagram and Twitter and was covered by British media.
Dreph said he conceived the 10-mural series to champion oft-overlooked everyday black women, from lawyers to writers to campaigners.
He did not stage any formal publicity and was surprised by the widespread attention.
"It was all organic," he added. "And that's something that I hold dear… The integrity is absolutely paramount to what I do."
In his follow-up series, the artist plans to produce another 10 portraits around the British capital on the theme of immigration.
He aims to paint his subjects where they live or work, in an effort to celebrate the local and confront issues around gentrification stoked by "You Are Enough".
"People are actually seeing the artwork as another sign of gentrification," he said, admitting initial surprise at the reaction.
"This series is a response to that… My work is about presenting alternative narratives."
READ ALSO: See the world's most expensive painting; Price is unbeatable
Signature style
Dreph completed the first piece in the new project last year: a 6.7-metre-high mural towering over central Brixton, a fast-gentrifying south London neighborhood long home to British-Caribbean and British-African communities.
It features local legend Michael Johns, a facilities manager who emigrated from Grenada in the 1970s and was awarded the keys to Brixton Market in 2017 in honor of his years of service.
The mural showcases Dreph's signature style: larger-than-life subjects emblazoned in bright, bold colors, exuding pride and optimism.
He paints from his own photographs and credits his vibrant and joyful style to something in his subconscious — and background.
"My portraiture is born out of years and years of doing graffiti… I've translated it into what I'm doing now," Dreph said.