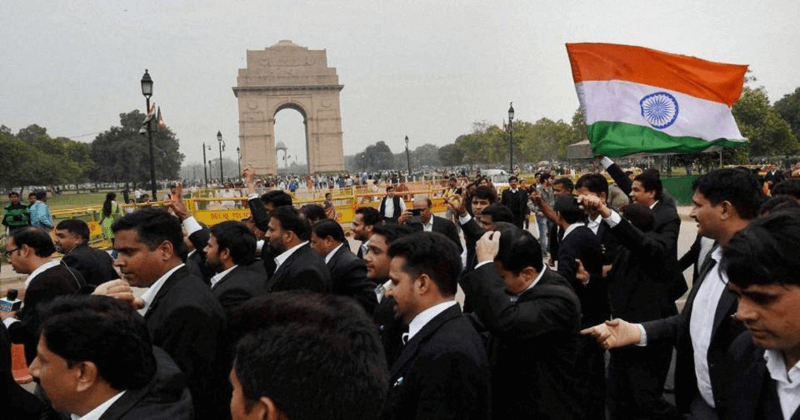 Registering a strong protest against the attack on the residence of Shahdara Bar Association President, lawyers in Delhi observed a complete strike in all 6 six district courts in the National Capital. The protest also raised concerns over the deteriorating law and order situation in Delhi.
Advocate Jaiveer Chauhan, who is the Secretary-General of the coordination committee of Delhi Bar Association said that the attack on the Shahdara Bar Association President Pramod Nagar's house in Bhajanpura in North East Delhi raised security concerns against which the lawyers conducted the strike.
See also:Are the Police here to support the culprits and their political bosses?
The judicial works in District Courts at Patiala House, Tis Hazari, Saket, Rohini, Karkardooma, and Dwaraka were affected due to the lawyers' abstention from their works. Lawyers only appeared for arguments in bail and custody cases.
Jaiveer Chauhan said that Nagar's house was attacked by a gang of 40-50 persons, who pelted stones at his house and also did firing using guns. He further added that attack had been in a retaliation to Nagar's request to a gang of 4 drunk persons to not make loud noises outside his house at late night. Chauhan considered this fearless attack using guns at somebody's house as a complete lack of fear of the laws. So the current protest is a wake-up call to the police to act swiftly and maintain law and order in the state.
A circular had been issued by the coordination committee of all Delhi District Court Bar Associations according to which the members called for a strike and demanded action against the culprits.
On the night of May 28, up to 50 persons attacked Pramod Nagar's house with stones, guns, and lathis. The gang fired at his house following his son's altercation with them regarding the gang partying and making notices in the middle of the night sitting inside their car. It was after Nagar and his son's protest, the gang came back with 40-50 armed persons with iron roads, pistols, and lathis and started a severe attack on their residence during which the family was locked inside.
3 arrests have been made so far in this incident.