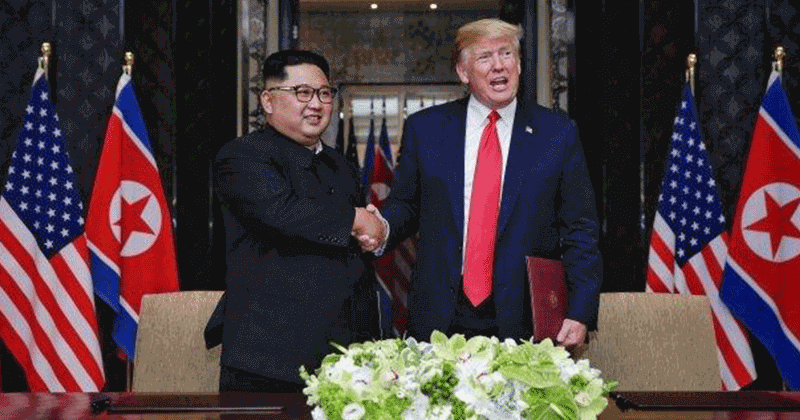 After that historic summit that began and ended with the historic handshake between the US President Donald Trump and North Korean leader Kim Jong Un, what is the next in agenda?
Inviting the other to their home turf.
Kim Jong-un has accepted Donald Trump's offer of a visit to the White House, North Korea's state news agency has reported, with the regime leader extending a similar invitation to the US president.
On Wednesday, the North Korean news agency has reported that Kim Jong-un invited Trump to visit Pyongyang at a convenient time and Trump invited Kim Jong-un to visit the US.
"The two top leaders gladly accepted each other's invitation, convinced that it would serve as another important occasion for improved DPRK-US relations."
READ ALSO: Agreement Between Donald Trump and Kim Jong Un; All You Need to Know
Trump made no mention of the visits in his latest tweets but again hailed the summit as historic.
The World has taken a big step back from potential Nuclear catastrophe! No more rocket launches, nuclear testing or research! The hostages are back home with their families. Thank you to Chairman Kim, our day together was historic!

— Donald J. Trump (@realDonaldTrump) June 13, 2018
 During Tuesday's historic summit, Kim said it was "urgent" for North Korea and the US to halt "irritating and hostile military actions against each other", the news agency reported on Wednesday.
"Kim Jong-un and Trump had the shared recognition to the effect that it is important to abide by the principle of step-by-step and simultaneous action in achieving peace, stability and denuclearization of the Korean Peninsula," it reported.
The North Korean leader was quoted as saying the regime could take more goodwill measures if the US reciprocated with genuine measures to build trust, and that the two countries should take legal and institutional steps to avoid antagonising each other.