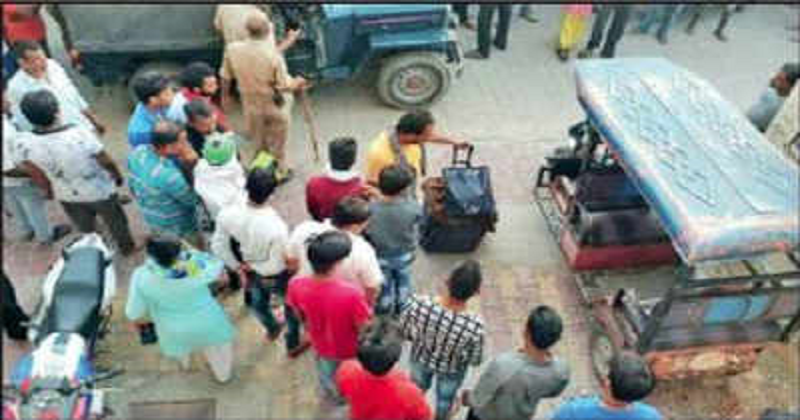 A 20-year-old NEET-qualified son of a doctor has been detained in Vrindavan along with his friend while in an attempt to dispose of his 23-year-old cousin's body that intercepts keep stuffed in a suitcase.
Police arrested Vishal Tyagi, a cousin of the victim identified as Deepanshu, and his friend, Paurush Kumar, who was allegedly trying to dump the suitcase in Yamuna river. A police patrol vehicle saw both of them moving suspiciously in an e-rickshaw with the suitcase which had blood marks of the departed.
According to police, the trio used to stay in a rented flat in Greater Noida's Pristine Avenue for the past five months while the main accused's father is a doctor in Ghaziabad.
During interrogation, both of them confessed to the crime and exposed that they had killed Deepanshu around 10 pm on Sunday at their flat in Greater Noida after a drunken brawl. They confessed that they had consumed liquor together and later got into a fight, police said.
They claimed that Deepanshu misbehaved with them and in a fit of rage, they strangled him. Later, they cut his body into two pieces to be able to stuff it into a suitcase and dispose of it.
According to police, they hired a radio cab from Greater Noida to Vrindavan and then took an e-rickshaw to travel to the guest house as decided and where they had destined to dump the suitcase into the Yamuna. Vrindavan kotwali station house officer Subodh Kumar confirmed that Vishal had cleared his NEET exam this year and his father is a doctor in Ghaziabad. The accused's family stays in Sector 23, Sanjay Nagar of Ghaziabad.
"Another person, named Kuttu, was also involved in the murder. His identity has been disclosed by Vishal. A case has been registered under IPC's sections 302 (murder) and 201 (disappearance of evidence of offence) against them," Kumar said.
Read More: After White House invitation, Kim to invites Trump to North Korea
The victim, Deepanshu also hails from Ghaziabad and had been staying with his cousin, Vishal, and his friend, Paurush, in Greater Noida for the past five months.
Talking to TOI, the deceased's mother, Raj Kumari Tyagi, said she couldn't ever imagine that Vishal "would do such a barbaric thing to his own cousin". She lost her husband 15 years ago and had been taking care of her family since then.
"My son was crying last night and wanted to come back when I spoke to him over the phone. I wanted to go to Greater Noida on Tuesday to check on his health," she told, adding that she wants justice and Vishal should be hanged.