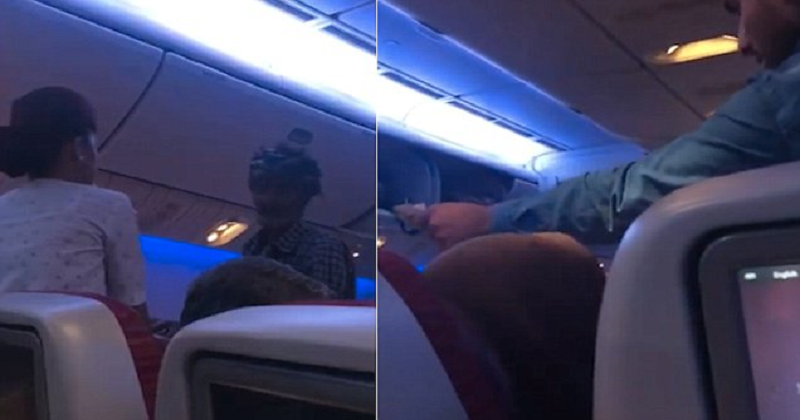 An utterly bizarre incident took place inside a commercial flight which flew from Doha to Shiraz. A footage of the man holding a plastic pouch and pleading for help onboard Qatar Airways has gone viral.
The man, about in his middle-age ignored repeated requests from the flight attendants to sit down which delayed the flight take-off for more than a minute. What was surprising is that some passengers even gave him some money.
The video of the footage went viral on social media and garnered more than 25,000 views. The video shows the man holding a pouch and pleading others to help. After repeated requests from the flight staff, the man acknowledges but continues to stand in the aisle.
At this point, a female flight attendant requests the man and says, "Sir, please have a seat. I understand you, sir, but we're about to take off."
Two more staff urge him to sit down and in the meantime, driven by the urge to help a person in need, a passenger calls out to him and gives money.
Read More: World Cup 2018: A female Colombian reporter kissed, fondled by a group in Russia
Sources at Pakistan's Civil Aviation Authority (CAA) have quashed the rumours that the man was a Pakistani national. They have vehemently denied that the flight has nothing to do with Pakistan as earlier, social media users speculated that the incident was on a Bangkok-bound flight from Karachi airport. The man was reported to be an Iranian national.
A beggar was seen on board a flight from Doha to Shiraz, Iran. He was reportedly deported from Qatar and was travelling without any money.

Reports that he was Pakistani and was on a Bangkok-bound flight from Karachi have been dismissed #iran #flight #beggar #qatar pic.twitter.com/UCxXRpPo7P

— Kumail Soomro (@kumailsoomro) June 19, 2018
Comments on the social media hover around this man and his behaviour on board. People are shocked to know how a man could beg on board a Qatar Airways flight where a ticket could cost over $500. It is still not clear how the man was able to purchase the expensive air ticket and created a commotion on board by begging.