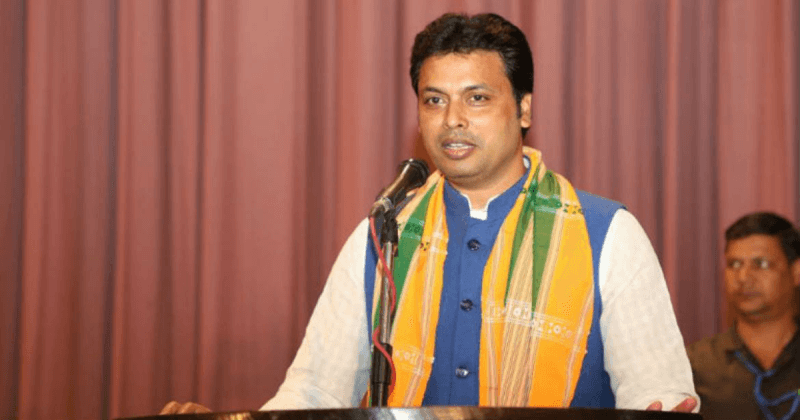 The killing of the Journalists Santanu Bhoumik and Sudip Dutta Bhoumik in Tripura last year sparked a series of protests in the state. Biplab Kumar Deb, the current CM of the state whose victory marked an end to the 25 years of  CPI(M) rule there, took charge on 9th March 2018 before which he had promised that if came to power he would pass
the journalists' death case to the CBI.N ow he has fullfilled his promise.
The CM informed that the CBI has agreed to take over the investigations into the killing of two journalists last year.
Santanu Bhoumik, a local TV reporter was killed when he went to cover a road blockade agitation in the Mandwai area of West Tripura district on September 21, 2017. Sudip Dutta Bhowmik, a local crime reporter, was killed inside the headquarters of the Tripura State Rifles(TSR) 2nd battalion at RK Nagar in Tripura on November 20, 2017.
See also:Biplab Kumar Deb to be the first BJP chief minister in Tripura
On the orders from the Tripura High Court, the trial in the Sudip Dutta Bhowmik case in the Additional District and Sessions Judge Court was stopped.State Police's Special Investigation Team(SIT) had probed the killing and filed a charge sheet. The agency also investigated the Santanu Bhowmik case but has not filed a charge sheet yet.
Tripura CN Biplab Kumar Deb on Friday night told the reporters that the state cabinet had sent separate proposals for both the cases to the center to probe and ensure justice to the affected families.CM said that the BJP-IPFT  government had fulfilled yet another promise made in the party's vision document.S tressing that the CBI would ensure justice to the two families, Biplab Deb said that all the positive steps were taken by the state government for helping the media work with full freedom in Tripura.
CM announced a hike in pension for accredited journalists from the previous 1000 to Rs.10,000, which would help in providing financial assistance to ailing scribes.
Law Minister Ratan Lal Nath opined that the democracy turned fragile when the media were not free to perform their duties.H e lauded the CM for fulfilling the promise of ordering CBI investigation into the two murder cases.
Biplab's announcement of a CBI Investigation was welcomed by the Agartala Press Club and other journalists' bodies who had staged protests in the capital for the same cause.