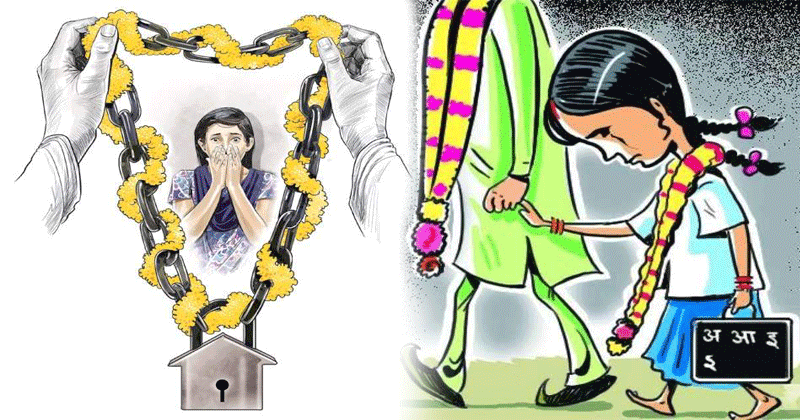 Child marriages are prohibited in India, but they still continue despite the many awareness and laws.
Child marriages, in some cases, happen because the family wasn't to 'rid off' of the girl child. And in some cases, the parents are trying to curb their child's love affair.
A 16-year-old girl studying Class X at a government school in Shamshabad, Hyderabad (Telangana) sought police protection when her parents wanted to marry her after learning about her alleged relationship with a former vidya volunteer. The police were acting on a tip-off
The girl was shifted to a shelter home in Nimboliadda in the city run by the state government, for protection and care, said the police.
READ ALSO: Child marriage in Malappuram District: Forced marriage of a Muslim girl below 18 years.
According to Shamshabad inspector K. Krishna Prasad, the girl, a resident of Pedda Golconda, and Arjun, a former vidya volunteer at her school, fell in love. After Arjun stopped working and started home tuitions, the girl attended tuitions at his house, when her parents got to know about the alleged love affair.
The girl's parents warned the man in front of community elders and his parents and asked him to stay away from the girl. However, the duo again resumed contact within a month. This time, the girl's parents planned to marry her and found a groom from her.
"An alert was received through Dial 100, about the child marriage. The police teams rushed to her home and rescued her. Her parents were counseled about the law. But, the girl expressed a threat from her parents, suspecting that they would marry her off and asked for protection, following which she was moved to the shelter home at Nimboliadda on Sunday, based on the recommendations of the child welfare committee. No case has been registered in this regard," said the inspector.
He said that the girl also said that she wanted to continue her education and after becoming a major, she would marry the person she liked, but not of her parent's choice.