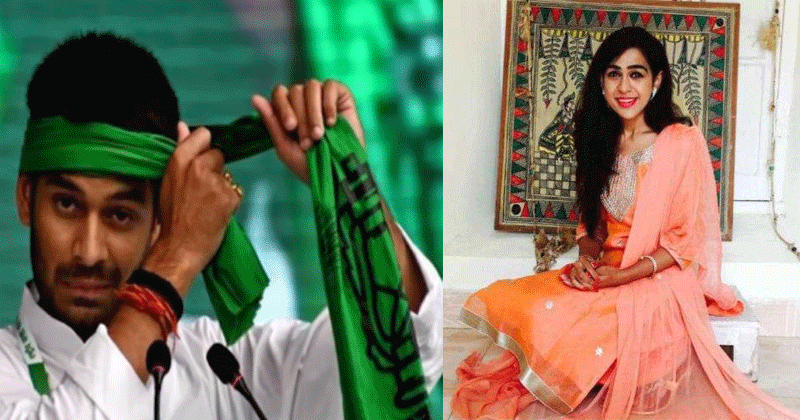 RJD leader's elder son Tej Pratap Yadav is getting ready to enter the field of the cinema after quitting the field of politics. His debut movie 'Rudra the Avatar' s poster has been released and is seen beefing himself up for the role.
But what is the reason for his sudden change in professions?
In a long post on Facebook, the Yadav scion mentioned that his mother, former chief minister Rabri Devi, has not listened to the issues faced by him within the party and hence he is compelled to consider parting ways from politics.
Accusing RJD leader Om Prakash Yadav and Member of Legislative Council Subodh Kumar Rai of trying to harm his reputation, Tej Pratap said that he had raised the issue with both Rabri and Lalu, but instead of acting against them, his mother scolded him for the same.
He said that he was informed by people in his constituency that Om Prakash Yadav and Subodh Kumar Rai had been referring to him as "pagal" and "sanki" (mentally disturbed). According to the former health minister's Facebook post, they also referred to him as "Joru ka Ghulam" (slave of his wife).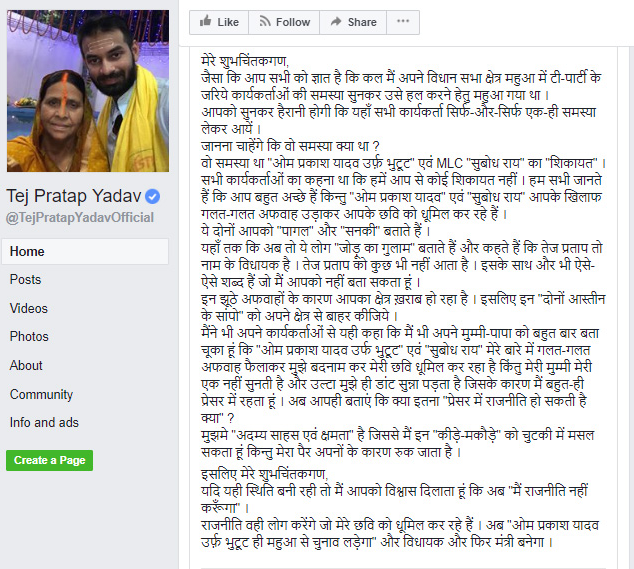 READ ALSO: From politics to movies; has RJD politician decided to quit politics?
Claiming that he was under tremendous pressure because of such issues, Tej Pratap asked his supporters if it was viable for him to continue in politics in the current circumstances. He said that though he could decimate his rivals with ease, his own people had stopped him from going ahead.
He, however, later deleted the post.
In June, Tej Pratap had triggered speculations of a feud within the RJD by saying that some senior leaders in the party were ignoring youth workers. He had also posted a tweet, making reference to the epic tale of Mahabharata, saying he was contemplating giving the throne to "Arjuna".
"???? ?????? ?? ?? ??? ?????? ?? ?????????? ?? ????? ?? ?????? ?? ??? ??????? ??? ????? ?? ????? "???????" ?? ???? ?? ?? ???? ??? ???? ???? ? ???????? ?? ???? ?????? (I think, I should establish Arjun on the throne of Hastinapur and go on a leave to Dwarka. But, there are some 'miscreants' who think that if I do so, I will be called a kingmaker)," he had tweeted.
However, his brother and former deputy chief minister Tejashwi Yadav had denied any rift, saying Tej Pratap was his guide.
"It is very evident Tej Pratap ji spoke on strength of the party. He spoke about how to unify and strengthen our party, ahead of 2019 (general election) and 2020 (Bihar assembly election). Unhone spasht kaha hai Tejashwi kaleje ka tukda hai. He is my brother and guide (He clearly said that I am very dear to him)," Tejashwi had said.
Tej Pratap, who was a Cabinet Minister for Health in the Bihar coalition government, is not seen as the heir apparent to Lalu Yadav's legacy in Bihar where his party RJD was in power for nearly 15 years. Since Lalu has been jailed, Tejashwi is said to be managing the party affairs single-handedly.