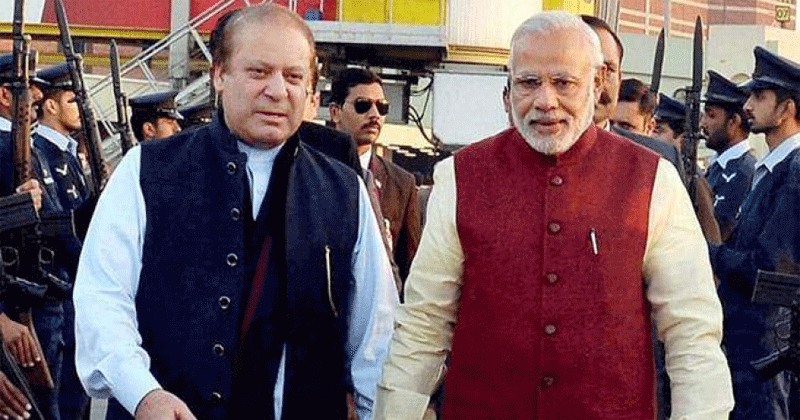 Pakistan's former Prime Minister Nawaz Sharif and his daughter Maryam Sharif were arrested under corruption charges.
Not missing an opportunity, Congress tweets about Prime Minister Narendra Modi's friendship with Nawaz Sharif.
Nawaz Sharif has been arrested on corruption charges. We'd like to know what his dear friend, PM Modi has to say about this. pic.twitter.com/VpIfJplfMX

— Congress (@INCIndia) July 14, 2018
In 2015, PM Modi had landed in Lahore on his way back from Afghanistan to personally greet Sharif on his birthday and also attend the function of Sharif's granddaughter's engagement. That was Modi's first visit to Pakistan,l. and was done as a goodwill gesture.  However, their bonhomie came to an end after Pakistan refused to take responsibility of the attack on an army camp in Uri in 2016, which resulted in the deaths of 18 soldiers. 
READ ALSO: No bed and AC for Pak Ex-PM in jail : Nawaz Sharif complains, meets lawyers
Congress tweet taunting Modi's relations with Sharif comes a day after Pakistan Tehreek-i-Insaf (PTI) chief Imran Khan, in a similar style, taunted Sharif over his 'friendship' with Modi.
Beginning to wonder why whenever Nawaz Sharif is in trouble, there is increasing tension along Pakistan's borders and a rise in terrorist acts? Is it a mere coincidence?

— Imran Khan (@ImranKhanPTI) July 13, 2018
Hitting back at the Congress, the BJP took a veiled swipe at Congress President Rahul Gandhi and Sonia Gandhi who are out on bail in the National Herald case of cheating and misappropriation. 
BJP's tweet read, "Pradhanmantri ji kya desh ka har aadmi iss par yahikah raha hain ki, 'Bharat mein bhi jo neta bail par ghoomrahehain, unhe bhi jail mein jana hi hain (Not just the Prime Minister, every citizen in the country has to only one thing: Politicians in India too, who are out on bail, will also have to go behind the bars)." 
???????????? ?? ???? ??? ?? ?? ???? ?? ?? ??? ?? ??? ?? ??…
'???? ??? ?? ?? ???? ??? ?? ??? ??? ???, ?????? ?? ??? ??? ???? ?? ??!' https://t.co/HPizCRAS4H

— BJP (@BJP4India) July 14, 2018
Meanwhile, Omar Abdulla defended Modi.
Even as Congress and the Bharatiya Janata Party indulged in a war of words on Twitter over the arrest of Pakistan's former Prime Minister Nawaz Sharif in a corruption case, National Conference leader Omar Abdullah said that he would not criticise Prime Minister Narendra Modi for attempting to repair India's relations with Pakistan during Sharif's tenure. He called Congress's tweet taunting PM Modi over the issue as "disappointing." 
There are a lot of things I will be critical of PM Modi for but attempting to repair India's relations with Pakistan is certainly not one of them. I'm not even getting in to the internal politics of Pakistan that makes this tweet even more disappointing. https://t.co/I64s7bRaCJ

— Omar Abdullah (@OmarAbdullah) July 14, 2018