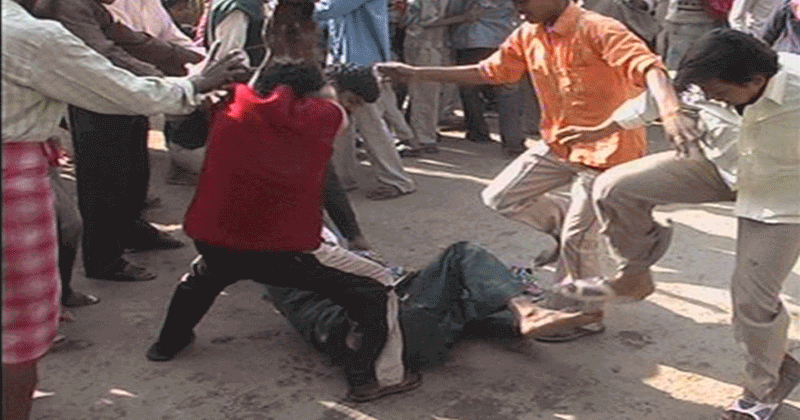 If it was over biscuits before, then now it was because of the chocolates in their possession. The locals of Hyderabad had turned on the youth.
A small gesture of offering chocolates to schoolchildren resulted in the lynching of city techie Mohammed Azam and injuries to three of his relatives at Murki village in Aurad Taluk of Bidar in the neighboring Karnataka.
Azam's cousin Mohammed Rashid said Azam, a resident of Errakunta on the Shamshabad airport road, was working in a multi-national company in Hyderabad. The other injured were Mohammed Salman and Mohammed Salam- eid-al-Kubaisi, a Qatar national, who have been shifted to Yashoda hospital in Malakpet on Saturday. Their condition is stable. Another injured person – Noor Mohammed was undergoing treatment at Bidar.
The group was invited by Mohammed Bashir, a native of Handikera who worked in Hyderabad, to his home and they were traveling to Handikera in a car when they stopped for some refreshments at a shop near Balkut Tanda. On seeing some schoolchildren, Salaam had brought chocolates from Qatar and offered it to them. However, the villagers assumed that the group to be child abductors and surrounded them.
Reports said the group managed to leave the place, but before they could travel much far, their photographs were circulated in a WhatsApp group, after which they were stopped on the road by a mob and attacked mercilessly with boulders, leading to Azam's death on the spot.
Media reports quoted senior police officials saying the admin of the WhatsApp group and another person was arrested, apart from more than 30 villagers in connection with the case.
READ ALSO: Woman thrashed by public because of biscuits
Salam's wife Zaibunnissa said Azam was dragged out of the car in which he was traveling along with his cousins and attacked brutally.
Azam had pleaded with the villagers requesting them not to attack him, but they ignored his pleas and threw boulders at him, Zaibunnissa. She said two police personnel, who rushed to the spot on coming to know about the incident, were helpless.
The family members of Mohd Azam, who was killed in a mob attack in Bidar, on Saturday demanded that the state government intervene and take up their case with the Karnataka government.
"We demand justice and all the culprits responsible for the incident should be booked," a family member said. Azam has married about three years ago and has a two-year-old son. The family is in a state of shock. Azam's body was brought from Bidar on Saturday afternoon and the burial took place in the evening.
"He went to attend a function at the house of one of his friends, Basheer Khan, who lives in Bidar. All of them had hired a car and left at around 10 am for Bidar," said Mr Osman, Azam's father.