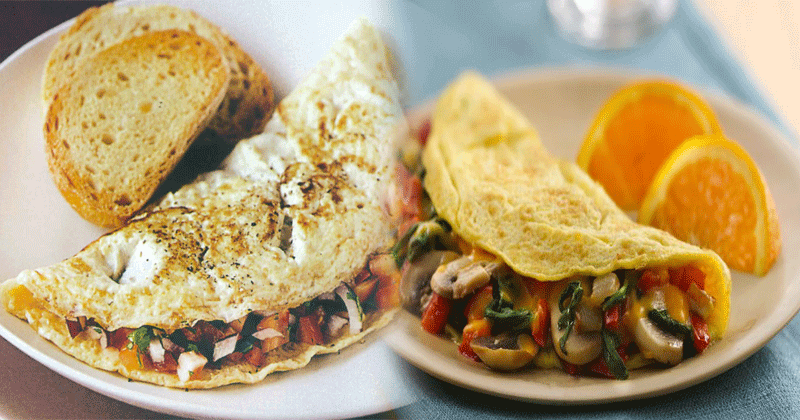 Asian Style Stuffed Omelette Recipe is a quick whip of a folded omelet which is loaded with Asian flavors. This recipe is perfect for your breakfast or even a light dinner meal before you head to bed.
Asian Style Stuffed Omelette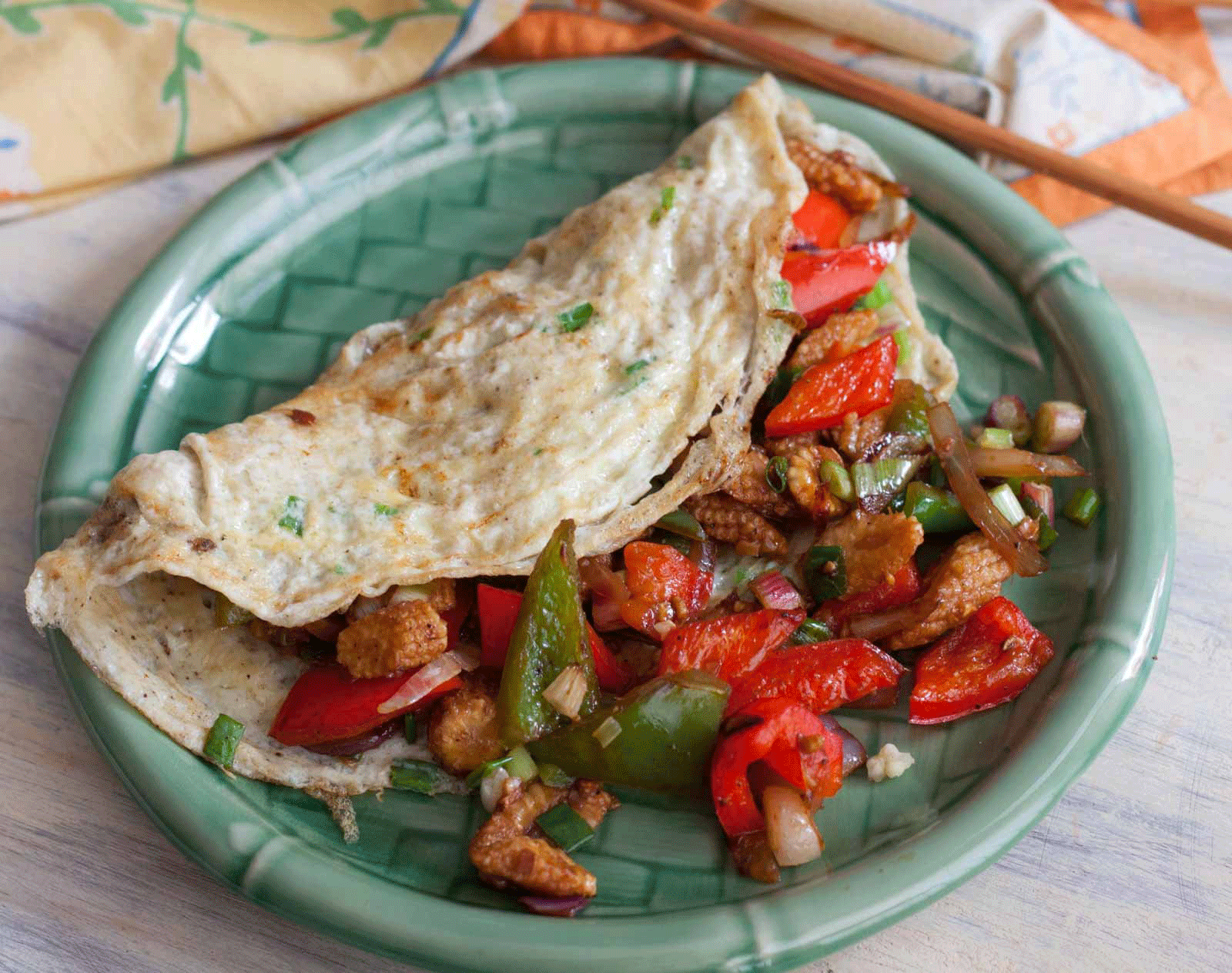 Prep in: 10 minutes
Cooks in: 20 minutes
Total in: 30 minutes
Makes: 4 servings
Ingredients
2 Whole Eggs
2 sprig Spring Onion Greens, chopped
Salt and Pepper, to taste
For the Stuffing
1 inch Ginger
3 cloves Garlic, chopped
1/2 cup Baby corn, chopped
1/2 Red Bell pepper (Capsicum), sliced
1/2 Green bell peppers, sliced
1 tablespoon Soy sauce
1 tablespoon Green Chilli Sauce
1 teaspoon Chilli vinegar
READ ALSO: To coconut lovers- Coconut French Toast with Chocolate Chips
How to make
To begin making the Asian Style Stuffed Omelet Recipe, add eggs into a bowl and mix with salt, pepper and spring onions. Give a good whisk till it fluffs up.
Heat a flat skillet with oil, add ginger and garlic and saute till it softens.
Add baby corn and cook till it is done, which will take about 20 minutes. Add bell peppers and saute for 10 more minutes.
Add all the sauces along chili vinegar and stir-fry. Check for Salt and add if needed. Take the stir-fried vegetables out of the pan and keep it aside.
Heat oil over a medium heat and coat the surface of the pan with a few drops of oil (not required when using a good non-stick pan).
Pour the egg mixture and spread it well with a ladle.
Once it starts getting cooked, after about 30 seconds on medium flame, sprinkle the Vegetable stuffing over the egg omlette
Fold the egg with a spatula from the sides and transfer it to a plate by bringing it to the edge of the pan. You can also cook the omelette on both sides and them go with putting cheese and rice, if you prefer.
Serve the Asian Style Stuffed Omelette Recipe along with a smoothie or a glass of juice to kick start your day with a good meal.