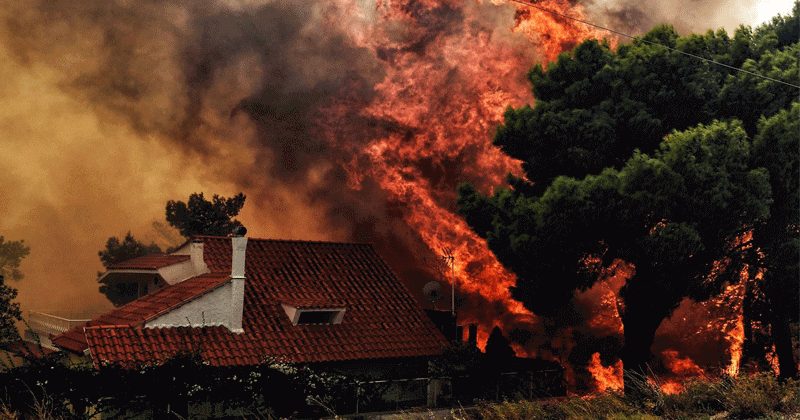 In the worst wildfires that have ever hit the nation, the latest one has taken the lives of at least 74 and have injured many, along with damage to property.
In Greece, rescue operations continue as the workers search the charred homes and burned-out cars on Wednesday as the death toll is expected to rise from 74 and 187 injured.
The fire stoked by the high winds had destroyed the buildings, devoured the pine forests and had the people running for the sea to escape the scorching flames.
Greek media have described the disaster as a "national tragedy", while Prime Minister Alexis Tsipras cut short a visit to Bosnia and announced three days of national mourning.
The government has not yet said how many people are still missing from the fires, which broke out on Monday, as firefighters continue to battle blazes in some areas.
Residents and terrified holidaymakers were overtaken by the flames in homes, on foot or in their cars.
The charred bodies of 26 people, including small children, were discovered at a villa at the seaside resort of Mati, 40 kilometers (25 miles) northeast of Athens, said rescuer Vassilis Andriopoulos.
They were huddled together in small groups, "perhaps families, friends or strangers, entwined in a last attempt to protect themselves as they tried to reach the sea", he said.
As world leaders including Pope Francis affirmed their solidarity, Athens said 308 engineers would arrive on site by Wednesday to assess the damage.
But "the problem is what is still hidden under the ashes," said emergency services vice president Miltiadis Mylonas.
The death toll could surpass that from the blazes that hit Greece's southern island of Evia in 2007 in which 77 people perished.
One Belgian was among the victims, said Belgium's foreign minister Didier Reynders, while in Warsaw Poland's government said a Polish woman and her son also died.
Some 187 people have been hospitalized, with 82 still being treated on Tuesday evening, including almost a dozen children, most of whom were in a "serious condition", the fire services said.
Dramatic video footage showed people fleeing by car as the tourist-friendly Attica region declared a state of emergency.
Athanasia Oktapodi, whose home is surrounded by pine trees, said she first spotted the fire moving down the hill "and five or ten minutes later it was in my garden".
"I ran out like a crazy person, got to the beach and put my head in the water. Then the patrol boats came," said the 60-year-old.
READ ALSO:  At least 50 People Died and Many more Injured as Wildfires Erupted Through Woodlands
Resort 'no longer exists' 
Fire service spokeswoman Stavroula Maliri said firefighters were still searching for more victims and taking "dozens of calls" from people looking for relatives.
Winds of above 100 kilometers per hour (60 mph) in Mati caused a "sudden progression of fire" through the village, said Maliri.
"Mati no longer exists," said the mayor of nearby Rafina, Evangelos Bournous, adding that more than a thousand buildings and 300 cars had been damaged.
"I saw the flames outside the window of our hotel. I thought it would explode," said Alina Marzin, a 20-year-old German tourist who had been staying at the Capo Verde hotel in Mati on Monday evening with her brother and their parents.
At least six people died trying to escape the flames into the sea. Some 715 people were evacuated by boats to Rafina, the government said.
"People are shocked, lost. Some of them have lost everything: children, parents, homes," said Red Cross spokeswoman Georgia Trisbioti.
The European Union activated its Civil Protection Mechanism after Greece sought help. Several countries said they were sending aircraft to help fight the flames.
European Commission chief Jean-Claude Juncker tweeted the EU "will spare no effort to help Greece and the Greek people", while Pope Francis spoke of his "deep sadness," sentiments echoed by EU and NATO leaders.
NATO head Jens Stoltenberg offered the alliance's full solidarity with Greece, whose government earmarked financial aid for victims' relatives.
40-degree heat
Interior Minister Panos Skourletis said the priority was to extinguish a fire still burning in Kineta, 50 kilometres from Athens.
Near the town of Marathon, residents fled to safety along the beach, while 600 children were evacuated from holiday camps.
Officials raised the possibility the blazes could have been started deliberately by criminals out to ransack abandoned homes.
"I am really concerned by the parallel outbreak of these fires," Tsipras said as supreme court prosecutors announced they had opened an investigation into the causes of the fire.
Showers were set to see temperatures around Athens drop slightly after hitting 40 degrees Celsius (104 degrees Fahrenheit)
READ ALSO: Wildfires hits South France forcing thousands to evacuate
Fires across Europe 
The wildfires come as record temperatures in northern Europe have seen blazes cause widespread damage in recent days.
Sweden, experiencing an unprecedented drought and the highest temperatures in a century, has counted more than 20 fires across the country.
Fires have also hit Finland's northernmost Lapland province.
Norway, which experienced its hottest May temperatures on record, has seen several small fires. One firefighter was killed on July 15 trying to contain a blaze.
Fires have raged for five days in Latvia, destroying more than 1,000 hectares in the Baltic state.