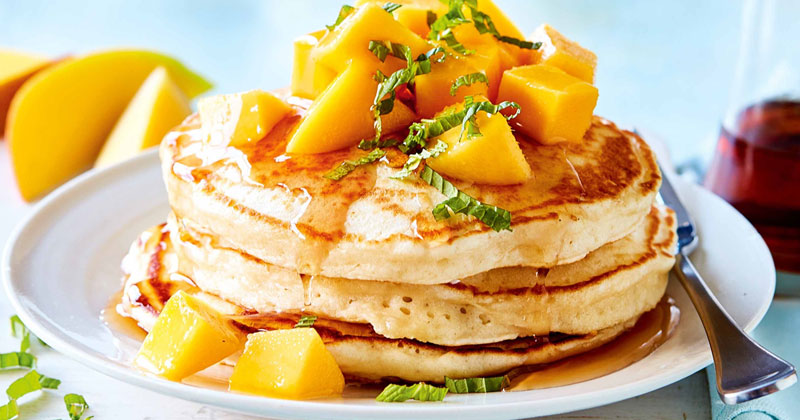 Love your mangoes? Then you are sure to enjoy this delicious Mango Pancakes
Mango Pancakes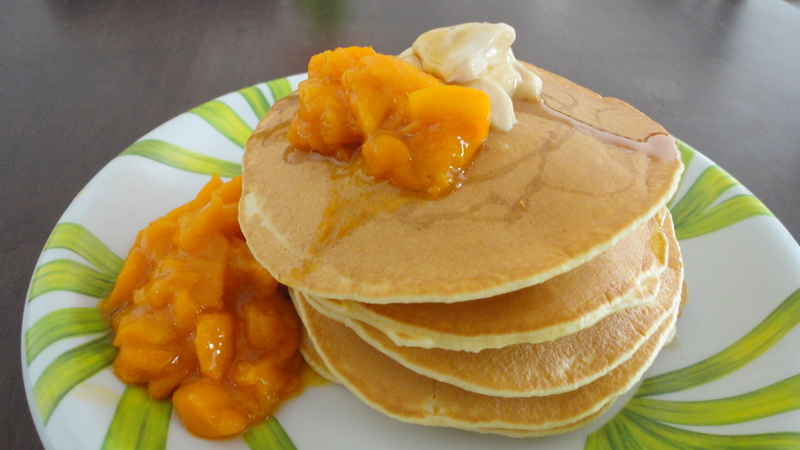 Ingredients
Whole Wheat Flour – 1/2 cup
All Purpose Flour – 1/2 cup
Baking Powder – 2 tsp
Mango Pulp – 3/4 to 1 cup
Milk – 1/2 cup
Cinnamon/Cardamom Powder – 1/2 tsp (optional)
Sugar – 1 tbsp
Butter – as required
READ ALSO: Spicy Pearl Tapioca Upma With Peanut Tomato Chutney- Simple Breakfast
Method
Combine wheat flour, all-purpose flour, sugar, cardamom/cinnamon powder and baking powder in a bowl.
Pour milk and mango pulp and mix well to form a smooth batter without lumps. Do not over mix the batter. Keep the batter aside for 10 minutes.
Heat a non-stick griddle, skillet or flat pan and smear butter if required.
Pour around 1/2 cup of batter on to the griddle. Do not spread.
Cook on medium low heat for about 3-4 minutes until one side is done. You will see small bubbles appearing on top of the pancake when the first side is done. Flip over and cook the other side for another minute or two.
You can have these golden brown mango pancakes without any syrup as they are sweet. But you may go ahead and top it with Maple Syrup, Chocolate Syrup or any Syrup of your choice.
Note
You can increase the quantity of Mango Pulp and decrease Milk for a stronger Mango flavour.