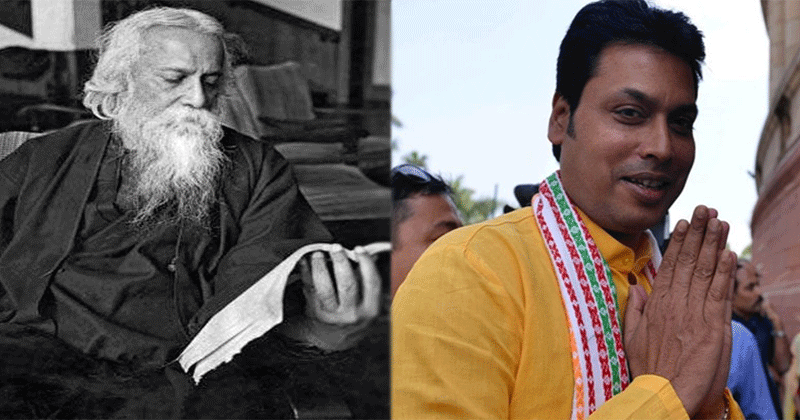 Tripura Chief Minister Biplab Kumar Db is known more for his motor-mouth and controversial comments. And he is back again.
On Wednesday, the Tripura CM said the Nobel laureate Rabindranath Tagore returned his Nobel to protest against British colonialism.
A video of Deb's speech at a Rabindra Jayanti observance at Udaipur in Gomati district has surfaced where he claims that Tagore had "rejected" the Nobel Prize in protest against the British government.
Watch VIDEO uploaded by TIMES NOW
READ ALSO:  Speech of Buddha Purnima was "misinterpreted" by Tripura CM Biplab Deb
"Rabindranath Tagore not only rejected Nobel Prize, which was given to him, in protest against the British government but also got Biswosrestho award for Geetanjali. However, Tagore cannot be confined within Geetanjali award," Deb was found telling in the video.
Tagore, in reality, had repudiated Knighthood in protest against the Jalianwalla Bagh massacre. In the past, there was a huge uproar over the theft of Rabindranath Tagore's Nobel Prize medal. 
Deb is also seen saying: "Ponchishe Boisakh is dearer to all people than their birthdays.
"If you ask a child, she can tell you that today (Wednesday) is Rabindranath Tagore's birth anniversary," Deb said at an event to commemorate the 157th birth anniversary of the bard.
"The great litterateur wrote his legendary work Bishorjon here; right where we stand. The story is well known to all of us. A little girl asks her father: 'Baba, eto rokto kyano? (Father, why is there so much blood?)'. Her father embraced her. The little girl was trying to wipe the stream of blood," Deb said while inaugurating a three-day Rajarshi Utsav in Udaipur, the erstwhile capital of Tripura's Manikya kingdom.
This is not the CM's first gaffe. From internet existed in the Mahabharata era,
READ ALSO: During Mahabharata era had internet and satellites: Tripura CM Biplab Deb
To saying that all international fashion and design contest organized in Paris are run by "international marketing mafia". 
READ ALSO: Yet another controversy by CM; questions Diana Hayden 'Miss World' title
Deb also stated that Mechanical engineers should not opt for civil services but civil engineers should. Deb even asked the educated youth in his state to "set up paan shops instead of running after political parties for several years to get government jobs and waste vital time of their life" 
READ ALSO:  Stop chasing govet jobs, cows or panshops much better for unemployment solution
What more do we need to hear?