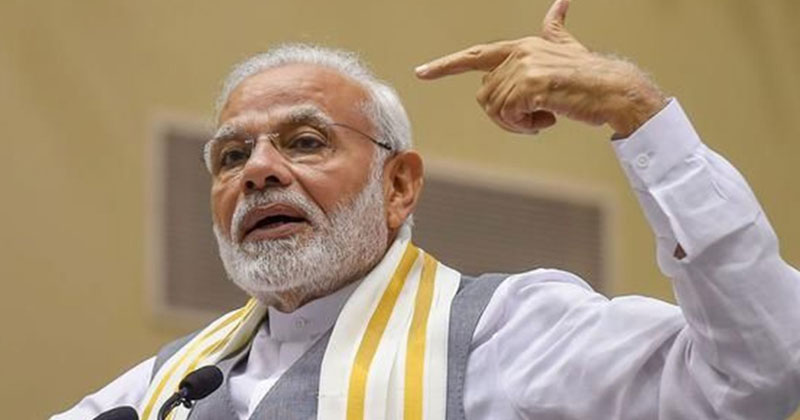 On the 2nd anniversary of the surgical strikes that took place 2 years back, Prime Minister Narendra Modi attacks Congress stating that the latter is questioning the surgical strikes, going against the country & the Army.
Via the NaMo App, the PM said this when interacting with BJP booth workers of Bilaspur, Basti, Chittorgarh, Dhanbad and Mandsaur.
PM Modi said: "The whole country has seen the Congress' attitude towards surgical strikes and it continues to question it. In its pursuit to oppose the government, the Congress is opposing the country, the Army and its feat.
The country still remembers that the Congress has refused to celebrate Kargil Vijay Diwas."
He said the country should celebrate 'Parakram Parv to mark the anniversary of the surgical strike and pay respect to the soldiers.
He continues to say that the government during the Congress's reign was smeared with corruption.
"Inthe past four years, the Congress has been disconnected with people and has failed as opposition. Their sole agenda is to level false allegation on others and to spread the fake news to divert people's attention. People with no vision today have become television, which always keeps on playing a comedy."
He urged the party workers to reach out to the maximum people through various social platforms the counter the Congress' tactics.
Answering the party workers quires, PM Modi said that demonetization & black money no longer is present in the property market, and that the property prices have gone down.
"Home loan interest rate, which was more than 10% under the UPA, has now come down", Modi said.
He also underlined that the government has taken various initiatives for the middle class as a rebate on income tax and returns on savings have increased in the last four years.
In the past four years, the government has focused on the development of all classes as part of its Sabka Saath, Sabka Vikas, Modi said, adding, "You can recall that people were facing price rise and inflation under the previous government."
Modi said violence in Naxal-affected areas has reduced by around 20% in the last four years.